We are the only Web Design Company that integrates Technical SEO within a Web project.  We have been doing this for over 10 years and every single time we launch a website, it shows up for its intended keywords.  We call it "SEO Magic" but truly, it isn't a magic trick.  All we do is follow Google's Guidelines in building a Search Engine Friendly Website.   Our Web development Protocol has never let us down, so much so that we now have a money-back guarantee —  if we are unable to increase your ranking when we launch your new site.
Below are the Guidelines for Technical SEO
Choose your Domain Wisely
Make sure your domain is ideal to your location and industry.  I once met someone who had a ".co" which is a country specific, Top Level Domain (TLDcc) but she wasn't aware.  Because none of the .com's where available, she chose the .co — which means Google will prioritize searches in Columbia for her domain.  Her business is based in the US.  But, you never know, she might eventually expand her business to Columbia.
So if you are a local business in the Bahamas, you should definitely choose a .bs domain and no thats not BS advice.  But if you are local business that relies on Tourism then you should definitely get a .com
If you are a local business in the US, you should definitely have a .com.  If you are school, you should have a .edu or .org domain. If you are in the Government your domain should be .gov  — again, let me reiterate.  Every domain has a purpose.  Make sure that purpose meets your purpose.  Don't just buy a domain because it sounds nice, this is only true for Startups.  If you are not a Startup, a .com will never let you down.
Here are my favorite places to buy domains
Keyword Research
Most Business Owners don't know what their keywords are.  But, if you have a website and you take bookings /reservations online, this is a no-brainer.   You must know what Users search for to Book your Service.  Knowing your keywords is half the battle!  (Ok, Ok maybe not half but its something)
Here are my favorite Keyword Tools
In as much as its great to show up for major keywords, you may want to drill down to search for long-tail keywords.  Those are the keywords that directly convert Users into Clients because they've already done their Online Homework.  Remember, ideally, one keyword (and permutations thereof) should have one landing page.
Site Architecture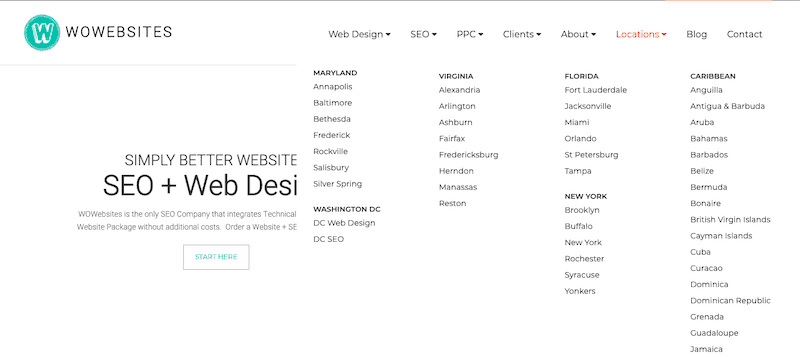 Your website must look professional.  You will see a lot of DIY website with Business Owners just designing their pages based on their products and services.  When we design your website architecture, it will be based on what Users are searching for.  The most important thing to understand is this:  one page equals one search query.  The landing pages must address User Intent otherwise, you are going to lose rank.  It makes sense to patter your site architecture after the keywords you are going to target.
For more information about Site Architecture, check these resources out…
Breadcrumbs
If your website has a lot of pages, you must make it easy for Users to find things.  Using Breadcrumb Navigation helps make things more clear.  A breadcrumb is what you normally find at the top of the page.  It lets users know where exactly they are on the navigation.
One thing that most Business Owners forget is that they must make their websites User-Friendly.  If Users get frustrated with your website because they can't find things, they will just bounce off.  Having breadcrumb navigation, in some cases, alleviates that frustration most specially for content-heavy websites.
Search Engine Friendly-URLs
This is one of the most basic aspects of web design but i still find a lot of web developers who create URLs with underlines instead of dashes, with capital letters instead of no caps.  Thats because they don't understand that a simple variation of the URL will automatically create two pages of the same content.
As an example both these homepage URLS are incorrect
www.domain.com/index
www.domain.com/Index
Back in the day, when everyone developed websites using html, /index was the default.  But nowadays, a correct homepage URL structure is www.domain.com  — the minute you add anything to that, you are creating an entirely duplicate page.   Here are other URL structures that are incorrect
www.domain.com/Hello-How-Are-You
www.domain.com/hello_how_are_you
The correct way to write the URL would be www.domain.com/hello-how-are-you  — no caps and never, ever use the underline.  Search Engines can't read underlines and Capital letters create another page altogether.
Duplicate Content Penalties
Everytime we are doing a site audit, we always find duplicate content.  It's the penalty that most Website Owners have.  They don't understand the URLs and Content Management Systems inadvertently create their own duplicate content and as a Website Owner, its imperative to understand that duplicate content penalties can decrease your ranking.  Some website owners also copy content from other companies and post it on their website.  This is a huge penalty for any website.  My rule is very easy:  do not copy content, be aware of your common content ratio and be aware of your text-to-html ratio.
Below are my favorite Duplicate Content Checkers
Ok, because I work a full time job doing SEO for our clients, I have to get to bed.  This page will be updated soon enough!   But before I go, below are the other Technical SEO integrations…
Semantic Structure
Canonical and Pagination
Siloing
Content Auditing
XML Sitemap
Backlink Auditing
Audit Linking Structure
Crawl Budgets
301 Redirects
404 Errors
Duplicate Content Issues
Similar Content Issues
Mobile-Friendly Websites
Page Speed
Browser Compatibility
SSL and HTTPS
AMP
Google Search Console