Web Packages with Advance Technical SEO 
Whenever we take on a web design project, we only have one objective in mind and that is to increase online revenues. We have been building websites for over 12 years.  We are the only Web Company that builds websites with Technical SEO integration for no additional cost.  Technical SEO is what enables your website to be crawled, indexed and categorized correctly by the Search Engines.  When your new Website launches, it will rank organically for your keywords.  We strongly believe that Technical SEO should be part and partial of Web Design.
Web Packages with Technical SEO 
We create your Company website by ensuring that its visible on the Search Engines: Online Visibility is so important now more than ever because Users search for your product / service and decide based on their online experience if they are going to use your service. Essentially they already know before they walk into your physical store if they are buying your service. Most web companies build websites and leave it at that. We build websites that are visible on the Search Engines and we advise you on how to increase your Search Engine rank throughout the years. We help you make money by being visible wherever your Users are searching for you.
Open-Source Web Design and Development
We are Open-Source Developers and use WordPress, Joomla, Drupal, Magento (ecommerce) and any other Open-Source CMS.  We have been developing Websites for over a decade and can guarantee the quality of any of the CMS mentioned above. Another important integration is that we ensure that your website incorporates E.A.T. (Expertise, Authority and Trust). By integrating E.A.T., we increase the amount of Online Sales /Bookings / Reservations on your website.
Fast Websites
Our web design process ensure that Users find what they are looking for. Aside from making fast websites and mobile-sites, we sure that Users find the product or service from the Search Engines within two clicks of the landing page. We are so confident with our services that we have a money-back guarantee thats unheard of in our profession.
Order per service, you have complete control
WOWebsites only builds Websites that have Technical SEO Integration, otherwise there is no point. You wont achieve high search rankings. You wont get any visibility, you won't get any quality inquiries. With that in mind, please note that we are very conscious of our Clients budget limitations so we have create this pay per service kiosk. If you want your web design done by someone else and simply want us to include Technical SEO or if you simply want to migrate your domain. Below are our services. Please note that not all our services are featured below. Click to purchase any of our Web Services instantly and expect turn around to be 24 to 72 hour hours except on Weekends / Holidays 
The most comprehensive Web + Technical SEO Package ideal for Small Businesses. Up to 50 pages of content transfer. Three Optimized Landing pages. Once we launch your website, it will rank higher than your previous site. That's a promise. Please email if you have any questions.
Keyword Tools include Google's Keyword Planner, SEMRush's Magic Keyword Tool and Moz Keyword Explorer.This should provide a comprehensive Keyword analysis for your Business and Industry.  Keyword research is included in an SEO Campaign.
When you have a design and simply want us to integrate a CMS (Open Source Only) to your website.We can definitely help. We will integrate the latest CMS release as well as find optimized plugins. We will also debug the entire system so you receive a functional website.  (Technical SEO not included in CMS Integration)
For Open Source CMS Websites only.  This package includes all the Technical SEO Considerations. Includes, SEF-URLs, XML sitemap, H1 to H6, meta data on all parent pages, robots.txt, semantic structuring, duplicate content check, linking structure, 301 Redirects, 404 error pages, canonicalization, image optimization, caching, breadcrumbs, mark-up, ssl and https, pagination and desktop speed includes css/html minification 
If you would like us to customize your web design from scratch the cost is $500 per page.  For a CMS website, you only need about 4 to 5 unique pages and the rest are internal pages that can be duplicated.  Please note illustrations are not included in this quote.  For more information, please email
We provide Search Engine Friendly Migration. When you are migrating a live site, you need to map each URL.  We provide QA to ensure all URLs and links are working properly. This package is only for websites that have 50 pages or less.  If you have more than 50 pages, please let us know and we can send a separate invoice.
If your website has suddenly lost ranking and you want to know what happened, this service is for you. The $1,000 is a downpayment and includes 8 hours of our time sleuthing through your website and figuring out the issues and providing recommendations. If we need more than 8 hours, you will hear from us 
If your website is changing domains and would like the assistance of an SEO Expert to ensure that none of your URLs lose rank during the transfer.  Please note that we bill for all URLs that need 301 redirects. You will get the final bill once the domain transfer is final.  
When you custom graphics design we can help.  Please make sure you submit your design pegs / creative brief prior to paying for the service so we can advise if we can do it in the timeframe required.  Normally takes 1 week for an illustration to be completed
When you want your landing pages to be able to convert Users into clients you need to have an optimized landing page.  We will create your landing pages and enable it to have high conversions.  We will ensure it loads fast and is User-Friendly
The most comprehensive Web audit that provides details of every issue your website has plus recommendations of how to fix it from an SEO Expert.  This also acts as the blueprint of your SEO Campaign and if you decide to pursue a campaign, amount will be deducted from the total
For Open Source (WP and Joomla) CMS only.  If your website doesn't load in 3 seconds you lose a third of Users. Imagine that.  And half your traffic comes from Mobile phones.  Speed is also one of the ranking factors that Search Engines take into consideration when prioritizing ranking.  This service is for Desktop and Mobile PageSpeed.
Recent Web Design Projects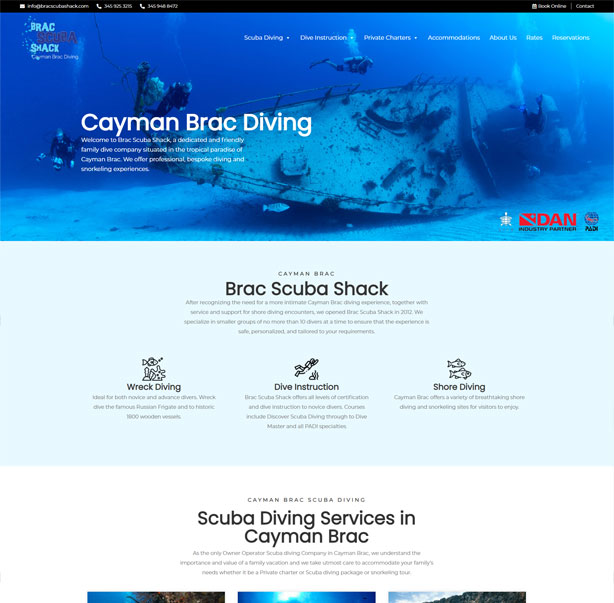 www.bracscubashack.com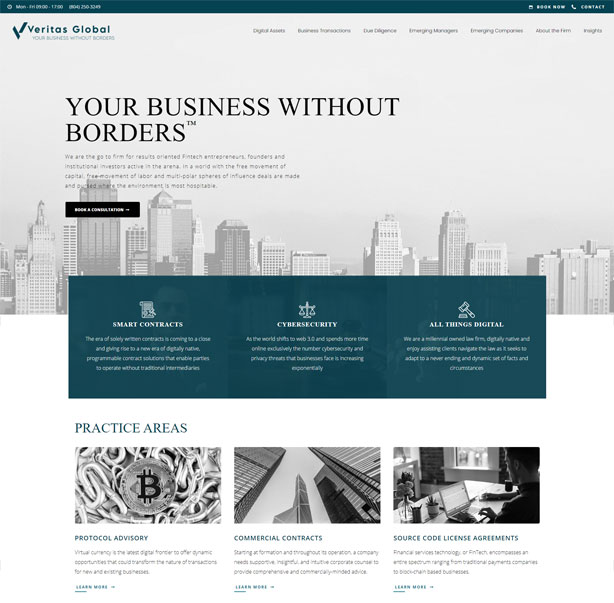 www.vglawfirm.com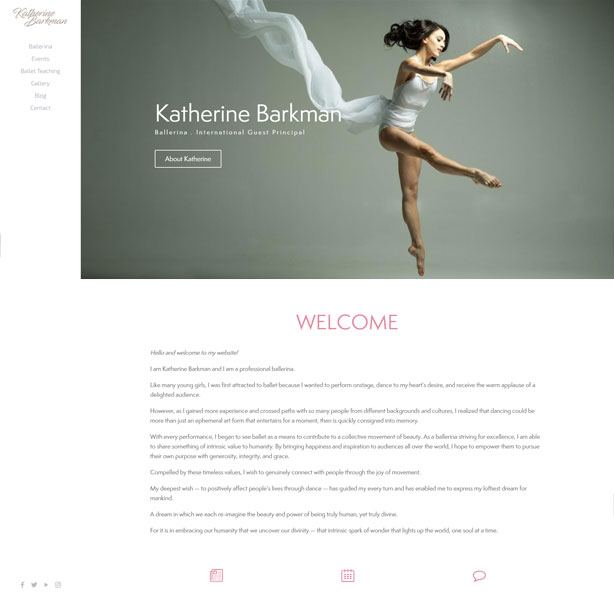 www.katherinebarkman.com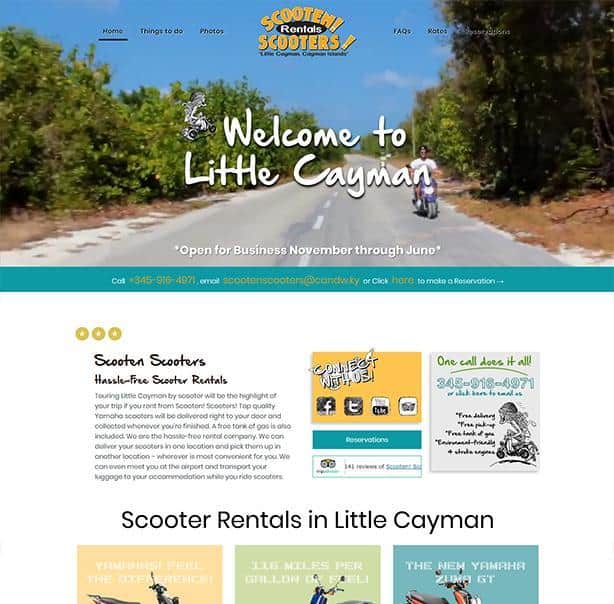 www.scootenscooters.com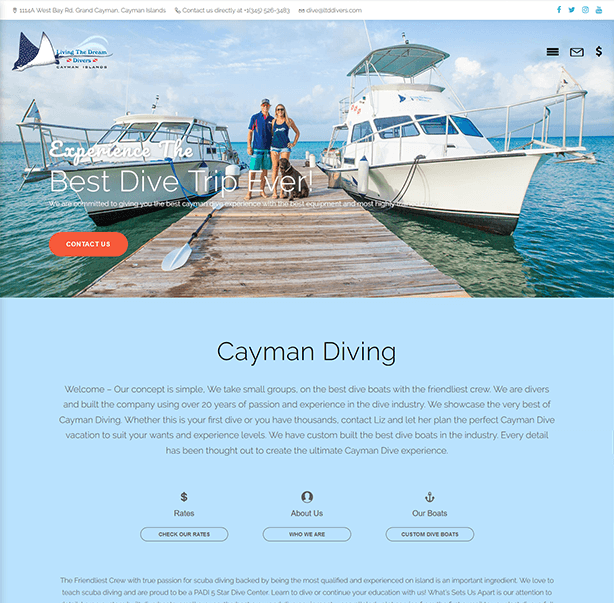 www.livingthedreamdivers.com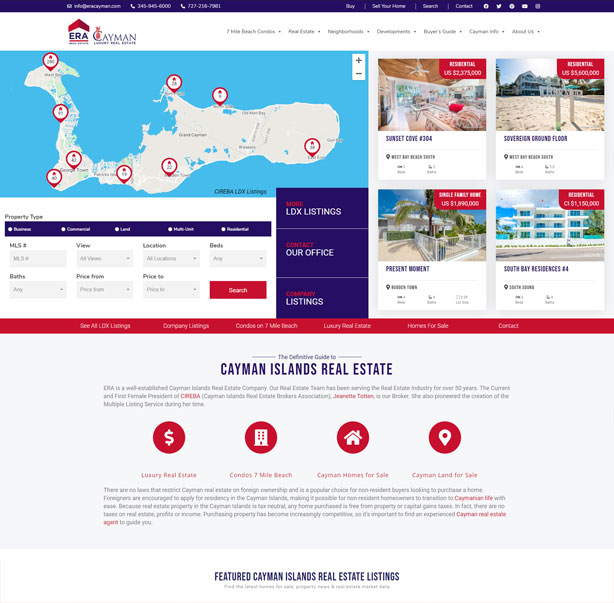 www.eracayman.com