We provide Remarketing Campaigns for Small Business.  Consider this: A User lands on your website while researching before making a purchase.  Studies have shown that 81% of Users do online research before making a purchase.  Now imagine your Online Ads following a User when they are online.  Those ads that are following the User are whats called "remarketing" and they are highly effective in converting traffic because it reminds the User of your product / service.
Creating Remarketing Campaigns
When thinking about Remarketing, there are two major players:  Google, including Google Content Partners (All Adsense partners) and Facebook, including Facebook Content partners (Instagram, Whatapp, Messenger, Workplace).  Which one should you use? It depends on your audience, where they are searching for you and where you are visible.  Personally, I would do a Temarketing campaign on both the Google's Content Network and Facebook as those two places are where all the online traffic comes from.
Long Banner Ads for Remarketing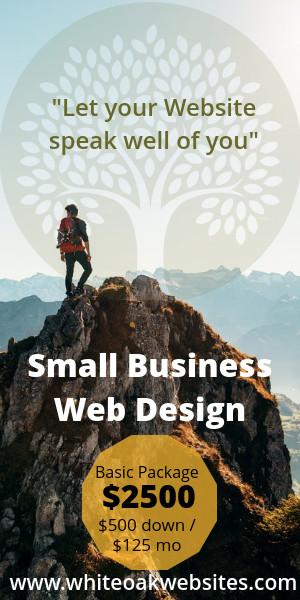 This is an example of a long banner Ad for Remarketing and is currently present on Google and Google's Content Network.  Everytime a User visits our website, this Ad will show up on other websites that they visit for up to 24 hours.  The long banner ad is great for catching anyones attention, obviously its also important that the Content Partner is a quality site.  The long banner size is 300 x 600 pixels.
Square Ads for Remarketing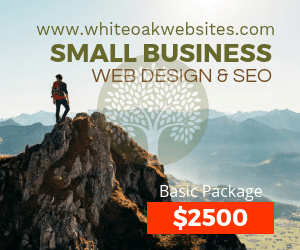 Square ads are great for content pages and it probably most used in Remarketing efforts.  I think of all the Remarketing ad sizes, the 300 x250 pixel size is my personal favorite.   Note that the branding of White Oak Websites is present on all Ads so that Users can quickly recall our service.
Horizontal Ads for Remarketing

The horizontal remarketing ad is another standard size that I prefer as most websites have this ad size on their websites.  The size of this horizontal ad is 728 x 90 pixels
Remarketing for Small Business
If you are thinking of creating a Remarketing Campaign please give us a shout.  The minimum amount to invest is a daily spend of about $4 or a weekly spend of about $100 — we will also be charging setup fees to cover the number hours to set up the campaign and to create the ads.  All in all Remarketing is a good investment for your brand.