Which Caribbean Island has the most Search-Engine-Friendly Tourism Website?
A Website Audit on each website will be able to inform us which Caribbean Tourism Website is the most Search Engine Friendly. Since there are so many Caribbean Islands, we are going to pick the Top 3 Islands that have the most searches on Google. Below is a list of Caribbean Islands and their average monthly searches
Fevi Yu
Date Published:

April 16, 2017
Average Monthly Searches for each Caribbean Island
aruba 1,500,000
puerto rico 1,220,000
jamaica 1,000,000
bahamas 823,000
dominican republic 550,000
curacao 550,000
barbados 550,000
turks and caicos 368,000
st lucia 246,000
guadeloupe 246, 000
martinique 246,000
cayman islands 246,000
grenada 201,000
dominica 135,000
st martin 201,000
trinidad and tobago 135, 000
anguilla 135,000
us virgin islands 110,000
british virgin islands 90,500
st barts 90,500
monserrat 49,500
antigua and barbuda 40,500
st kitts and nevis 33,100
st vincent and the grenadines 22,200
Disclaimer: This search only involves the actual search location mentioned and does not include variants of the location. ie. "cayman islands" gets 246, 000 monthly searches but other searches are for "grand cayman" or "cayman" and those search permutations have not been included on this list.
We are only going to pick the Top 3 Caribbean Islands on this list, which are Aruba, Puerto Rico and Jamaica.
Aruba's Official Tourism Website
When you search for "aruba' on Google, this is what you are seeing: The first listing is a sponsored Ad by Aruba.com and the second listing (essentially the first organic listing) is the same website by the Aruba Tourism Authority.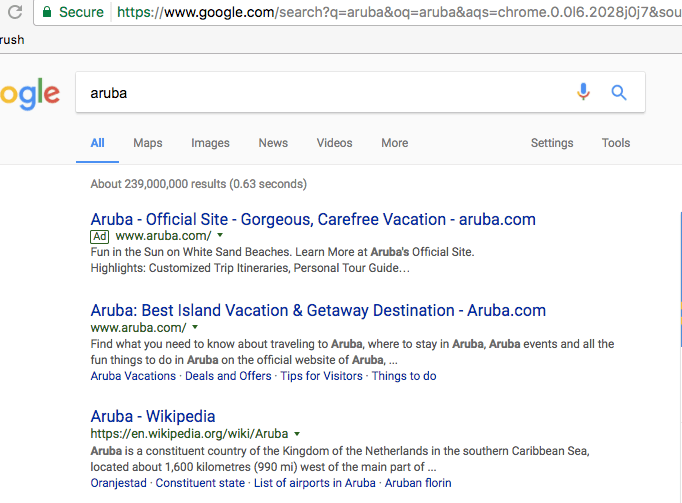 I have to say, whoever is managing Aruba's Online presence is doing a great job! Notice the Sponsored Ad, which is the first and most visible result on that page: Running a Pay-Per-Click Campaign with your Organic listings automatically increases your CTRs or Click-Through-Rates. Then the next website, which is essentially the first Organic listings is again, Aruba.com — having those two websites both Organically ranking as no.1 and then being on the Sponsored listing reinforces the trust-factor of the website as the Official website for Aruba. Its a great visual and I'm sure they are getting 100% of the clicks from the 1.5Million monthly searches. Bear in mind that a few more searches and other commercial websites such as Kayak and Tripadvisor as also paying for Sponsored Ads but Sponsored Ads is another topic altogether. For now, let's focus on the actual website, www.aruba.com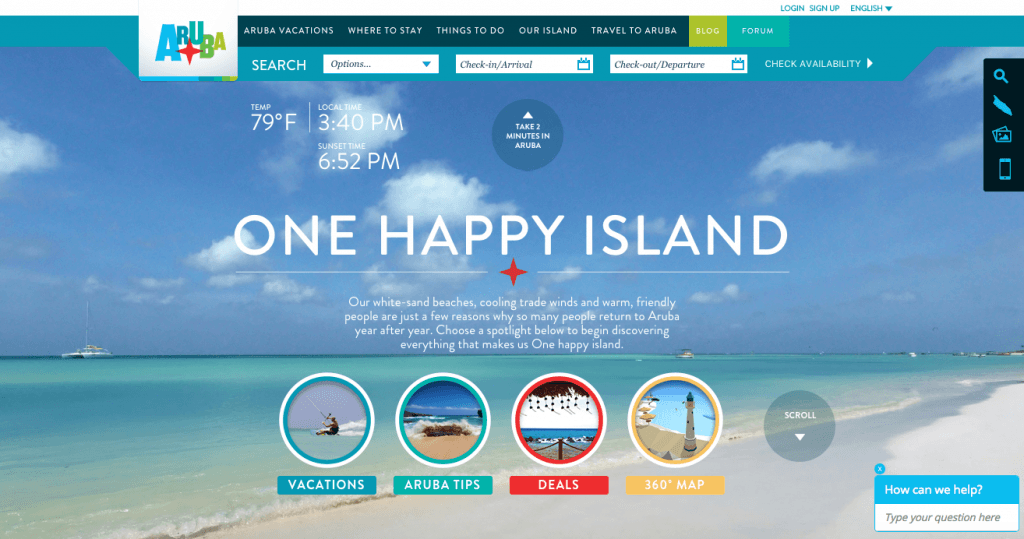 When you click on the Official Tourism Website of Aruba, this is the landing page. You can see their navigation clearly on the top of the website, the main navigation is extremely clear:
Aruba Vacations
Where to Stay
Things to do
Our Island
Travel to Aruba
And then on the body of the main banner, you have on-page menus for
Vacations
Aruba Tips
Deals
360 Map
Website Audit for Aruba.com
Page Title: "Aruba: Best Island Vacation & Getaway Destination – Aruba.com"
Recommendation: A better title for Aruba.com would be, "Official Website of Aruba: Top Caribbean Destination"
H1: "One Happy Island"
Recommendation: So whoever built the website of Aruba.com is a developer and not an SEO person so a better H1 for the website should include "Aruba" but since this is a Tourism website, it will get away with a lot of issues that other commercial websites would be penalized for. My suggestion would be to put, "The Official Website of Aruba Tourism: Top Caribbean Island" — in that way, it might have a chance to also show up for "caribbean" searches increasing their visibility.
H2: Search Form, Map of Aruba, Gallery, Highlights
Recommendation: Using the headers as the font size doesn't help make the website Search Engine Friendly. If they enable semantic structure then the Aruba website would probably show up for a lot more searches and not just the main keyword.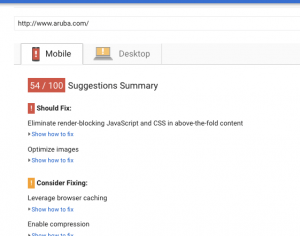 Page Speed Mobile: 54/100
Recommendation: Should be above 80+
Desktop Page Speed: 65/100
Recommendation: Should be above 80+
HTTPS: None
Recommendation: Google prioritizes websites that are secure so it should definitely have the https://
Use of Keywords: Yes, they are definitely using keyword searches as the navigation, which is good. "aruba vacations" gets 12, 100 ave monthly searches.
Recommendation: Unfortunately for "where to stay," they could have chosen a higher search term such as "aruba hotels" which gets a monthly ave search of 33,100 and instead of "travel to aruba" they should have used "flights to aruba" which would help increase bookings on their website. But all in all, not bad, not bad. Really good effort!
AMP: Not a valid AMP page
Recommendation: Aruba.com should definitely have AMP installed into their website because more than half the searches are now coming from mobile phones and with restricted data, AMP makes it easier and faster for users to read content.
Puerto Rico's Official Tourism Website
When you search for "puerto rico" on Google this is the result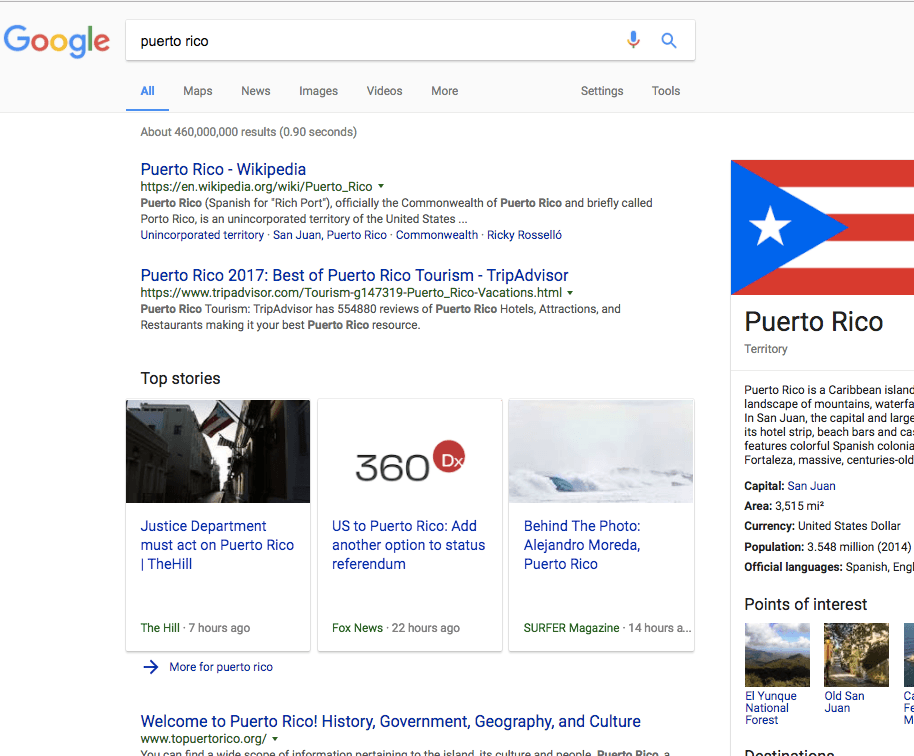 The Official Tourism website is #5 for "puerto rico" but its a bit confusing because it doesn't mention that its the Official Tourism website for Puerto Rico and the domain is www.seepuertorico.com, which adds to the confusion. To be completely honest, I'm not 100% certain that this is indeed the official tourism website for Puerto Rico and thats a problem because well, it will be harder for folks to trust the website and use it for booking. Also because its only #5 it will probably only get about 40 to 50% of the clicks from the 1.2Million monthly searches. Perhaps even less because of its less than alluring search snippet: "Come to Puerto Rico and live your own 5-star vacation story"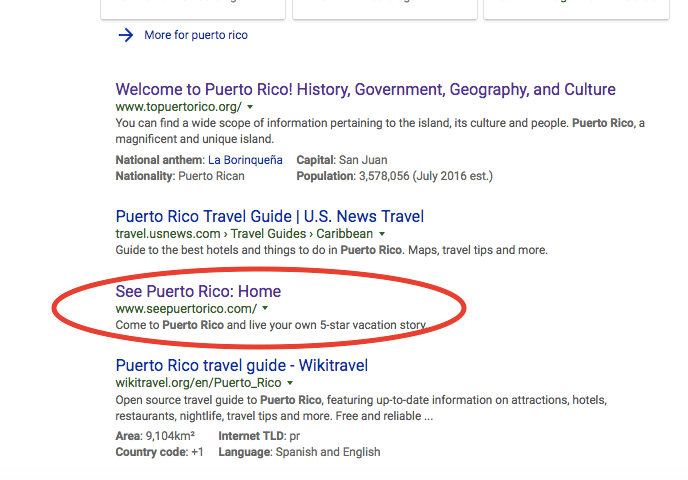 Below is the landing page of www.seepuertorico.com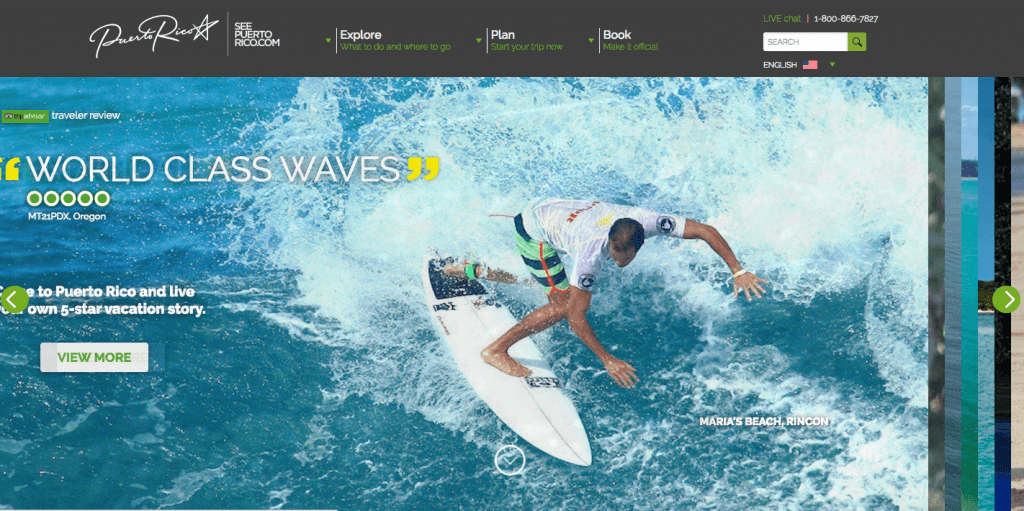 When you click through to the landing page of Puerto Rico's Tourism website, this is what you will see. The main navigation is on top and is as follows:
Its definitely not using keywords within the search term and thats probably one of the reasons why its not visible as it could be on Google.
Website Audit for Puerto Rico
Page Title: Home | See Puerto Rico
Recommendation: The title of a web page is the first thing that Google pays attention to. The title essentially informs Google on where you want your website classified. This title is telling Google you want to be classified for "home." A better title would be: "Puerto Rico: Official Tourism Website" — again, apologies if this isn't the tourism website of Puerto Rico… but I'm certain that if that page title was edited and if a proper H1 was used, the website could easily increase rank.
H1: NONE
Recommendation: Having the first header reiterates your page title is ideal. So your H1 shoud be, "Puerto Rico: " or "Welcome to Puerto Rico"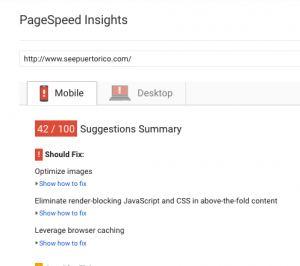 H2: NONE
Recommendation: Its best practice to have an H2 with your H1 because it helps the search engines classified and index your website properly
Page Speed Mobile: 42/100
Recommendation: Should always be 80+ /100
Desktop Speed: 49/100
Recommendation: Should always be 80+ /100
HTTPS: None
Recommendation: Google has said many times over that all websites should be secure
Use of Keywords: None
Recommendation: Its a good idea to integrate your keywords within your navigation because it helps your other pages rank for other keywords.
AMP: None
Recommendation: Its always good to follow best practice when it comes to Search Engine Requirements
Jamaica's Official Tourism Website
This is the top three result on Google when you search for "jamaica"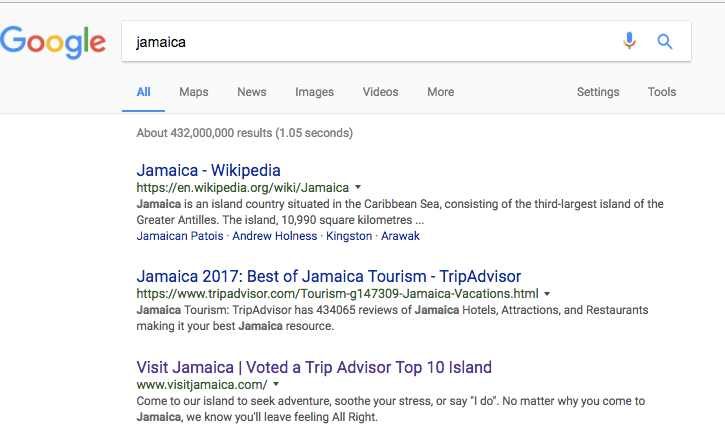 I believe the tourism website is #3 www.visitjamaica.com, again, like Puerto Rico, its hard to tell because there is no "Official Website of Jamaica's Tourism Association" or some similar title informing the public that its the official site. Another thing that makes is suspect is because its not www.jamaica.com or www.jamaica.jm
Because its only third on the search results, it probably only gets around 60 to 80% of the clicks from the 1 Million monthly searches on Google. Its search snippet also doesn't help, it says: "Come to our island to seek adventure, soothe your stress, or say "I do". No matter why you come to Jamaica, we know you'll leave feeling All Right." If they changed that to "Official Tourism Website for Jamaica" it would probably get an increase of clicks.
When you click on the search result, this is the homepage of the website. The main navigation is above and includes the following:
Things to do
Feel the Vibe
Your Travel Guide
Where to Stay
Weddings & Honeymoons
Groups
One thing that I'm absolutely shocked about is the fact that the website, www.visitjamaica.com is not mobile responsive. The other two websites from Aruba and Puerto Rico are both mobile responsive so I didn't mention that in the Website audit as thats standard now so its very surprising to me that this website isn't mobile responsive.
Website Audit for Jamaica
Page Title: "Visit Jamaica | Voted a Trip Advisor top 10 island"
Recommendation: If this website is indeed the official website of the Tourism Department, it would be appropriate to mention that in the page title, ie. "Welcome to Jamaica | Official Tourism Website"
H1: "Follow us on"
Recommendation: So a better first heading would be, "Welcome to the Official Tourism website of Jamaica" or something to that effect. Actually, anything would be better than "follow us on" 😉
H2: Things to do, Follow the Vibe, Jamaica Essentials
Recommendations: More keyword integrations would be better but this is a good effort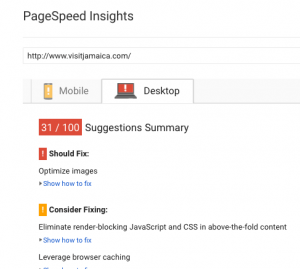 Mobile Page Speed: 71/100
Recommendation: 80+/100
Desktop Page Speed: 31/100
Recommendation: 80+/100
HTTPS: None
Recommendation: Always a good idea to use https:// on your website as Google requires it
Use of Keywords: Not extensively. There are some keywords within the homepage navigation but its not as extensive as it should be to help boost the internal pages.
Recommendation: Its important to use familiar words that Users are searching for within your website content and navigation. This helps increase faster Click-Through-Tates and is more User-Friendly and yes, Search Engine Friendly.
AMP: None
Recommendation: Because more than half the Users are using their mobile phones to view your website, AMP is a great way of delivering your website via mobile and restricted data.
Conclusion: Aruba currently has the most Search-Engine-Friendly Website
Of the three Tourism websites that have the most Searches on Google, Aruba wins as the most Search-Engine-Friendly. So huge Congratulations to the Web Team of Aruba!
Its important to be #1 for your location's biggest keywords especially if you are promoting your location and selling flights, accommodations etc. because then your website not only attracts visitors but makes money for your island and income directly from the website. Aruba definitely needs improvement so they are #1 not just in major keywords but in a lot of minor keywords but they are definitely on the right track. Puerto Rico and Jamaica need more help because they haven't really caught on to the importance of being Search Engine Friendly.
We haven't done the other Caribbean Islands because there is just too many but if you would like to us to do an Audit for your Caribbean Island, let us know by commenting on this post on Facebook. We would also love to work with your Web Team to help increase your Online Visibility.
Inquire for More Information