War of the SEO Tools
If you are an SEO Professional then you probably have the same issues as me in choosing which online tools to use.  Gone are the Yahoo Explorer days (aka Free SEO tools) and yes, I miss it greatly.  Below are a list of SEO Tools that I have tried and one that I still currently use.  Please note that for the most parts, these tools are equal in capability and limitations but it all boils down to preference.
Fevi Yu
Date Published:

March 8, 2013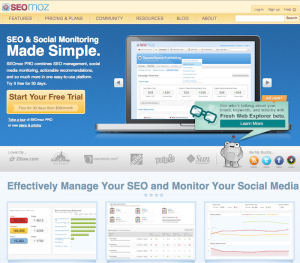 SEOMoz: Open Site Explorer (OSE)
Of all the tools, I think OSE is my favorite.  It is also the least expensive tool set starting at US$ 99 / month for 5 campaigns up to US$ 400 / month for 30 campaigns.  Whats interesting to note is that companies such as Zillow, Survey Monkey, Facebook, ebay, Cars.com, Seer Interactive, Home Depot, Yahoo, Disney and the New York Times are some of the big companies that use OSE, granted these big companies can probably afford to use all the available SEO tools.
It is my favorite tool for one reason; it is the most user friendly SEO tool set available in the market today. I have tried all of them and OSE by far is the easiest to understand and navigate and it uses metrics that I understand as an old-school SEO Professional.  I am old-school in that I don't like to use tools and like to experiment with data.  Alot of SEO Professionals are tied to their tools but I am not one of them, again, I am old-school. I trained in SEO even before there were SEO tools available.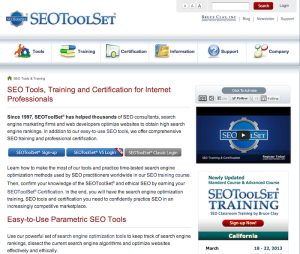 SEOToolSet by Bruce Clay
I have been an avid follower of Bruce Clay since the beginning of time (SEO Time) and I have greatly admired his knowledge and training abilities. In fact, I actually attended one of his training sessions at SMX West.  It was really to meet him in person and we even have a photo together.  Bruce Clay is without a doubt one of the SEO Greats of our time and his clientele include even bigger companies such as Paris (the country!), Toyota, Caesars Palace, eBay, Victoria's Secret, Bally's, Experian, Nickelodeon, MTV, Rosetta Stone, At&T and so much more.  Do these company's actually use the tool or his service?  I'm not entirely sure.  If I was to guess, I would probably think both.
SEOToolSet has flexible plans for individual companies and starts at US$ 29.95 per domain.  For US$ 89.95, 3 domains and so on and so forth until you get to 50 domains at US$ 1499.95 / month.  Obviously because I am neither one business nor do I need 50 domains, my package would probably fall under Pro at US$ 209.95 per month for 7 domains.  I did the one month trial (at no cost) but after a few days, SEOtoolset just seemed chunky and clunky to me. IMHO it was not user-friendly enough.  Keep in mind though that he (Bruce Clay Inc.) does SEOToolset Training and then Certification.  I don't have to time to get trained so I opted out of the service before the expiration of the free trial.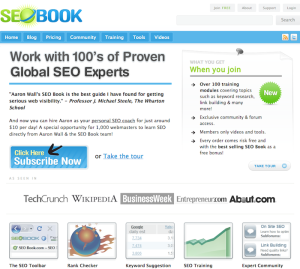 SEOBook Tools
I was an early adopter of SEOBook Tools and even downloaded most of their firefox extensions but then I switched to a mac and since most of their extensions (then) were not compatible, I just stopped using the tools. Today, I went back to SEOBook and remembered why I used them when I was starting off.  Bruce Clay may have written the SEO Book for Dummy's but Aaron Wall 's online SEOBook is a great place to begin that journey of becoming a Pro.  If you are an SEO Professional and you are just starting out, SEO Book is a great place to start with the fundamentals.  It is a bit pricy for US$ 300 / month but it has no limits with the amount of questions/campaigns.  That is good value if you are running atleast 5 campaigns per month.
There are quite a few more tools available out there such as Raven Tools, Majestic SEO, Hubspot, etc. – all equally as amazing but I will stop at those three for now as I can hear the Friday night music of Havana – Have a great weekend Everyone!
Inquire for More Information