Barney's One Rule in Social Media, Blogs
Barney's Social Media Rule #1
I am no Social Media "Expert" as most people refer to themselves.  Instead I like to say that I am an avid user of Social Media and long time SEO practitioner.  It qualifies I think on some degree of specialty to be able to provide a 'Rule'. Let me also clarify that this is not a series.  If you watch, "How I met your Mother?" then you will understand why these lessons are called, "Barney's Social Media Rule: There is just one" and they are  all going to be #1.  For the same reason everything is #1 with Barney Stintson.  So here goes...
Fevi Yu
Date Published:

March 28, 2013
Rule #1: Always follow-through on your Social Media.
When the beautiful story of Arianna hit the interweb, it was so fascinating to so many of us.  To recap, Arianna has autism.  If you hit this link it will give you all the details of the entire story up to the point of going viral.  I, like many of you, was so touched by the story that I sent Chili's a message on Twitter.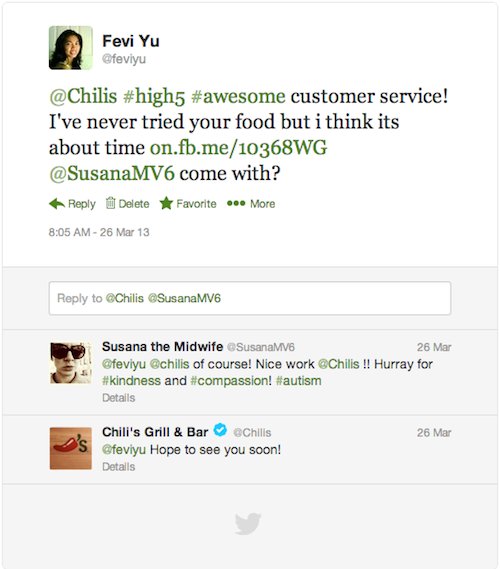 Rule #1: Follow-Through
When I sent the tweet, I didn't really expect a reply but they followed through.  I think so many of us miss the point.  "Real" scenarios are given to us on a daily basis but how many of us are actually able to capitalize on it?  Real Revenues!  Its true, I've never eaten at a Chili's nor did I ever want to but because of their reply, the next time I see a Chili's joint, you can be sure I am dragging whoever I am with to eat there. Would be nice to know what is good there so please tweet me back with your favorites.
So, follow through - its not just for sports, its also for the games (mind games) in Social Media.
I sent this to a company called Prezi and 24 hours later... still no reply from them. Shame because my renewal is almost up.  Follow-through... definitely has to be the one and only rule for Social Media.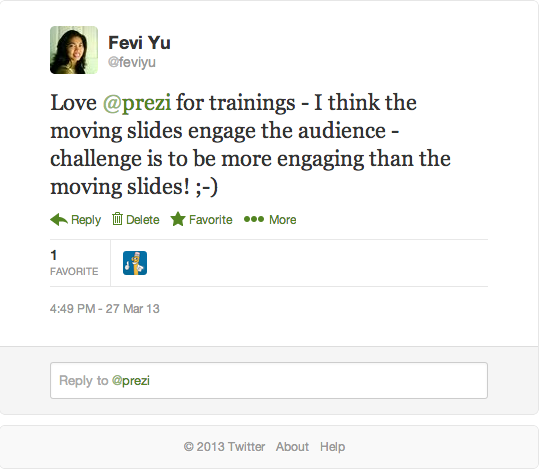 No Follow-Through, No Renewal