Aside from building other people's websites, one of the things that I greatly enjoy is creating new websites that serve a purpose for the community that I live in. Whenever I have an idea to build a website, we pretty much ensure that it has the following characteristics:
Unique Value Proposition :- we ensure that the website has a unique selling point so that it attracts more users than its competitors.
Varied Revenue Streams :- we ensure that the website is equipped with having more than just one revenue field to maximize its potential.
Easy to Maintain :- one of the big reasons we build websites using Content Management Systems is because when we turn over the website, it has to be able to be maintained by anybody.
Below is an example of a website that I have already sold.
www.cayman4rent.com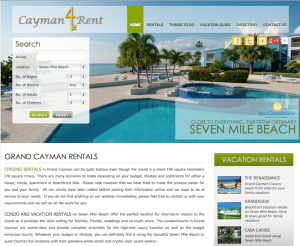 I was very fortunate to have had the ability to optimize this website to become the first website for major keywords such as "cayman rentals", "grand cayman rentals" – all in all it was showing a top three rank in all its keywords. This website was purchased by one of the premier real estate company's in the Cayman Islands and I wrote about it on a previous blog entry.
The revenue streams of this website are varied and below are some examples:
Revenue through commission bookings
Revenue advertising
Because it is a top ranked website it will easy enough to gain revenues from both commission bookings and advertising.