My background is in Social SEO…I have worked in the online industry for over 12 years now and in the last couple of years, I have personally witnessed the rise of Social Media. Since I observe analytics reports for my clients as well, I have seen the increase of referrals from Social Media sites such as Facebook, Twitter, TripAdvisor, etc. to my clients websites. The data correlates – the higher the referrals from Social Media, the higher the inquiries the clients receives. So Social Media is actually part of Internet Marketing as it is bringing in revenues for the client using an online medium.
Is your Social Media counterpart benefiting your website's rank? This is where I can personally help and assist you to make sure that whatever you are doing in Social Media immediately affects your Website's Search Engine Rank. We can run diagnostics and help Set-up your social media as well as train you how to take-over so that everything you are doing online is moving all together instead of one by one.
Below is a relationship chart of how your Social Media should be working hand in hand with your website and is how most people/businesses use Social Media.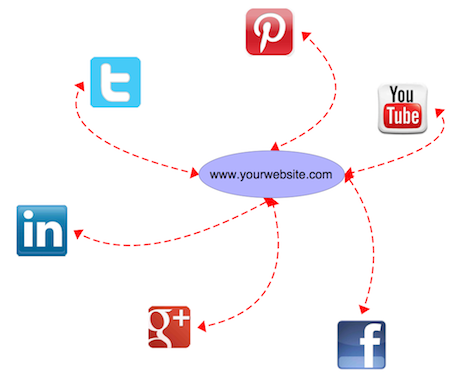 Social Media and your website should have traffic flowing back and forth to each other. But even more than that, the other relationship that I did not include in the first chart, is the way your social media should interact with each other and is shown on the chart below: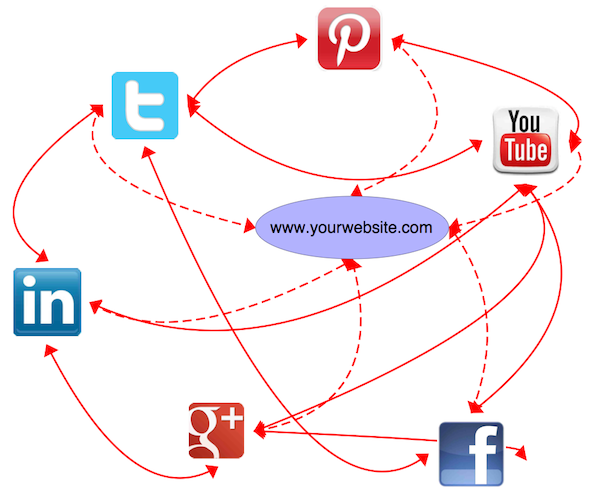 This would be the ideal way that a business managed their social media and website. All the social medias should be interacting with each other and in that way, it brings a more coherent online approach as well as doesn't miss out on any specific target market.
There are tons of perceived and self-taught Social Media Marketing "Experts" out there but IMHO an Expert is someone who has been doing this for over 5 years. The experience and sheer number of clients is what will make you an expert in your field.
My expertise is in Social SEO. Using your Social Media to bring traffic to your website is my focus of Service. Need more information? Pls use the contact form with subject: Social Media Info
---

Social Media is now part of the Search Engine Algorithm and that means that if you are a valid business then you should have some sort of Social Media presense as it informs the Search Engines that you are a real company.
Because Social Media is now part of the Search Engine Algorithm, every thing that you do on your Social Media platform doesn't just stop there. It goes on further to influence your search engine rank. Knowing how to help your overall online presence is how we can help you.
Feel free to contact us if you or your company is interested to avail of our Social Media Networking Set-up and Diagnostics package – this is to ensure that you have set-up your Social Media counterparts effectively so that it affects your Search Engine Results Pages.  Obviously Community Building / increasing your Fan Base is a different component and you should try to find someone in your organization that will represent you properly to work on it for your company.