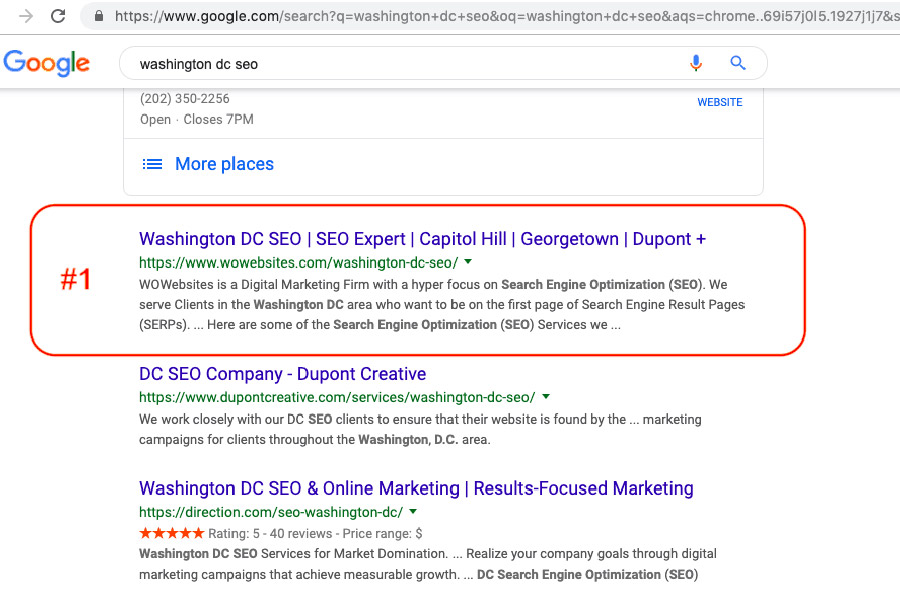 Blogs, Search Engine Optimization, Washington DC
How to Create A Top Ranking Landing Page for a Major Keyword
We went from having absolutely no presence for the keyword to being first, in less than 6 months.  We were also faced with a major algorithm release in the midst of it all.
Fevi Yu
Date Published:

July 25, 2019
There is only one external strategy that we did and that was to point a relevant link to the landing page. Everything else was hardcore Technical SEO and EAT (Expert, Authority and Trustworthy).  Below are the details of how we achieved #1 for the keyword, "washington dc seo"
Step 1: Optimized Website
Because we are building a landing page within a website, the website itself should be optimized and ranking already.  No point in building a landing page on a website that isn't optimized, or rather, you will be hard pressed to rank high for a keyword if the entire website isn't optimized.
To build an Optimized Website, here are the details…
Technical SEO —
Because we are an SEO Company, our website has Technical SEO integrations, such as the below:
No Broken links
Minimal Thin content
Minimal Common content
NoDuplicate content
Meta descriptions
Title Tags
Semantic structuring of Headers
Robots.txt
Mobile-First
No Errors on Google Search Console
My favorite resources for Technical SEO online are the following…
After reading these articles and you have any questions, please do not hesitate to AMA via my Twitter feed.
Let me insert a sales spiel here and let you know that we are the only Web Company that builds Websites with Advanced Technical SEO at no additional cost.
Page Speed —
Our website is fast.  Ok, fine, its not as fast as it should be but because we are constantly changing and updating it, its difficult to keep going after speed.  But once we are done with the changes, expect our website to have a score of atleast 50/ 85+ (mobile, desktop) out of 100 / 100 on Google's PageSpeed Insights.
Here are the elements that matter in Page Speed
HTTP Requests
Load CSS and javascript simultaneously
DNS lookup time
Server Response time
Browsing cache
Optimized Images
Content Delivery Network
Redirects
Plugins
Your best resource for PageSpeed is Google, follow their instructions as they provide a step-by-step and easy enough for a seasoned Web Developer to follow.
Quality Content and User Intent —
Its important for your website to have quality, unique content that is written with User-Intent in mind.  Understanding the User-Intent behind each search query is tantamount to knowing what and how to write for them.
Here are important factors in mind when writing quality content:
Keyword integration
Readability
Comprehensive Information
Lengthy
Include Visual Storytelling
Citations
Expertise, Authority and Trustworthy (E.A.T.)
Marketing Objective
Social Media Engagement
High Conversions
Include Data sets
Include Case Studies
Here are my favorite resources for Quality Content and User Intent…
Internal and External Links —
Links are so important, in fact links are one of the foundations of SEO that influence the way Search Engines rank a website.  Here are the important factors to consider when linking…
HTML links
Anchor text links
Internal linking structure
Backlinks
Penguin Algorithm
TLD Domains
rel="nofollow"
Link Building
Original PageRank
My favorite resources for Links…
In summary, if your website has Technical SEO, Page Speed, Quality Content with User Intent in mind and an Internal and External Link Strategy, you already have an Optimized website.  All you need to do is to create the page you want to target the keyword for.  In this case, I wanted to show up for "washington dc seo"  — which is in line with the entire strategy of our website.
Step 2: Create the landing page, write the Content and make sure you adhere to User-Intent
In a previous blog, I had mentioned how to write content for an Optimized Landing Page. The same principles still apply today.  In case you don't feel like clicking-through, the summary below…
Use keywords in Headers
Use more than one Header
Insert Quality Internal and External Links
Use bullet points for easier reading
Write comprehensively about your topic
For our page, "Washington DC SEO" you will note that the entire page is about SEO in Washington DC.  We even included keyword searches for specific industries. Really, hand-feeding the User so they don't have to think.
Step 3: Ensure your entire website linking structure and strategy supports this new page
John Donne wrote, "No man is an island…" and in this particular case, "No page is an island either"
One of the reasons I moved our Locations page from the footer menu to a Parent Menu is because I wanted every page to link to it.  The more internal pages linking to it, the better.   Here are the important aspects of your linking structure…
Links from the homepage
Links from Parent Landing pages
Links from Relevant Landing pages
Lots of content = Lots of links
Lots of quality content = lots of quality links
Natural Links
Follow Links
External Links are fine
Here are my favorite resources on Links…
Again, if you have any questions after reading my suggested articles, please hit me up on Twitter.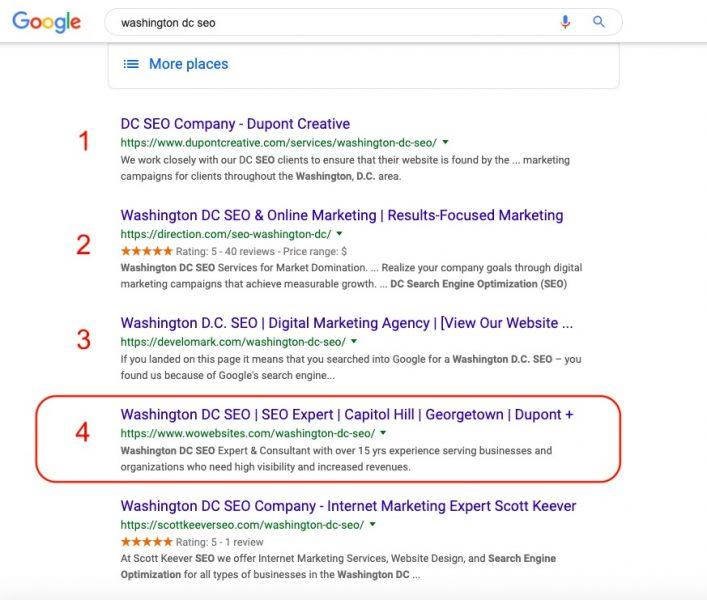 Month 4 Ranking: Low First Page
In the first couple of months, we were initially on the 3rd page and then moved up to the second page.  On Month 4 after launching the page, we were finally on the first page of Search Results.
One of my favorite tools to use is SEMRush and I still remember how I felt when the charts showed that we were #9 for our keyword.  But because I wasn't satisfied with being at the bottom of the page, I went and took a look at our competitors…  some noticeable differences between our landing pages…
We had no video (we still don't but video is important to increase page stickiness)
Our initial page only had about 500+ words
We needed more backlinks
We had too many thin content pages on our website
We were missing related keywords and added them to our pages, these related words included

"digital marketing"
"organic search"
"seo agency"
"potential customers"
"marketing services"
"marketing agency"
"seo firm"
After analyzing our content and comparing it with our competitors, we edited, updated and changed our content to include as many elements as possible and within a week we were ranking at #4 (sometimes #5) of our major keyword.
Month 5 Ranking: Top of the Page
Google's latest algorithm (Mobile-First launch on the first week of July, 2019) has benefitted our Web presence in that our Visibility has skyrocketed in the last month.  Aside from having top positions for Washington DC, we also have top positions for Florida, New York, most of the Caribbean islands.  Bear in mind that we have been following Google's Quality Raters Guidelines  since it first came out so this wasn't overnight success.  It's been steady growth, a long time coming.
After the 5th month, we were awarded #1 position for our target keyword. You can check out our current ranking here.
A lot of the work that we do, in SEO, is essentially comparing data sets from one day to the next.  Finding out what content and backlinks your competitors have and ensuring you have it on your website as well.  Sometimes it's not so much what your web page is missing.  Sometimes, its what your competitors have done better.
For anyone optimizing for a major keyword, if you've followed my advise above, the one last tool that you will need is patience.
Thanks for reading!
Inquire for More Information