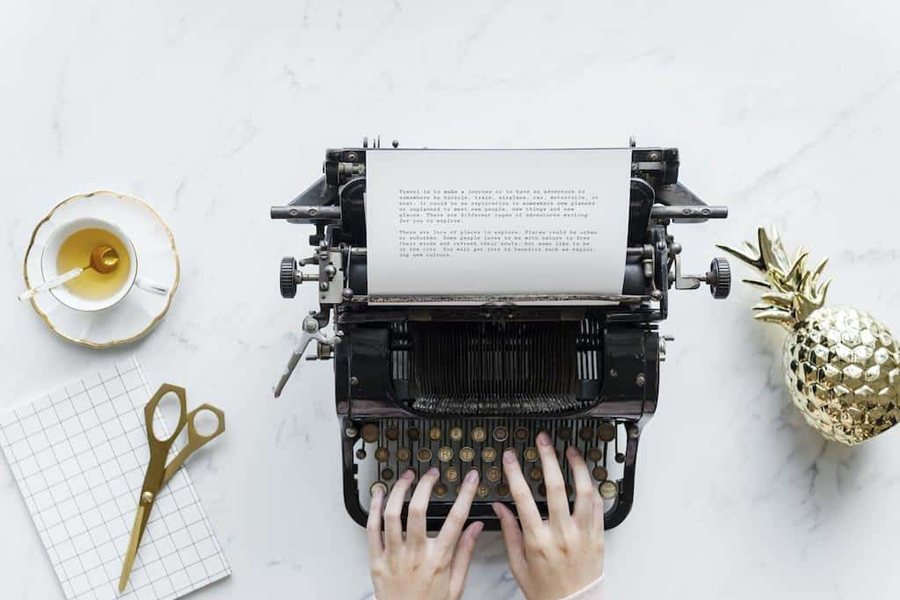 How to write Optimized Content for SEO purposes
Below is a step-by-step guide on how to write optimized content for SEO purposes. Bear in mind that if we built your website, it is already optimized and so that only thing standing between you and a first-page ranking is your content.
Fevi Yu
Date Published:

November 20, 2018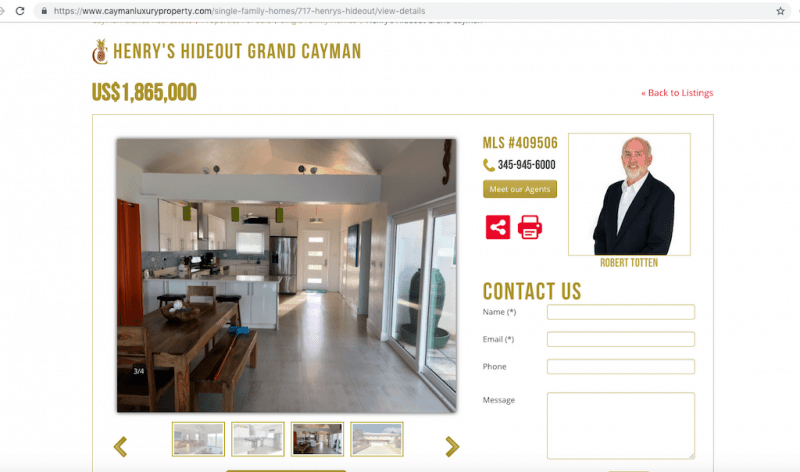 Example of Content Writing for an Optimized Landing page I recently wrote this listing for a client. Its an optimized landing page and I wanted the listing to show up for "Henry's Hideout Grand Cayman" — its a minor keyword and doable for a brand new page. The online ranking competitor is a local rental company, VRBO, and a few others that are just there to fill in the SERPS (Search engine results pages).
Use Keywords in your Headers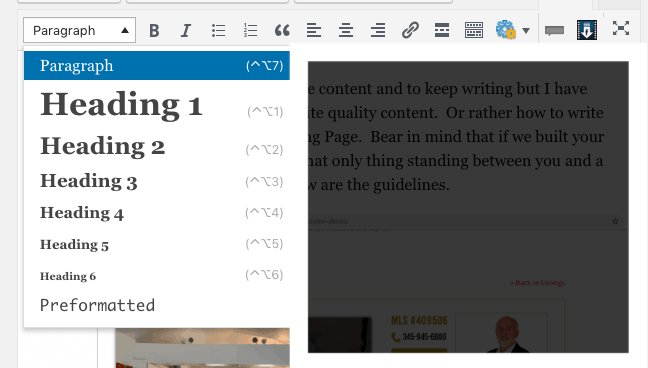 Screenshot of WP Editing tool and where to locate page HeadersI have a total of four headers on that page, they are:
H1 / First Header: "Henry's Hideout Grand Cayman"
H2 / Second Header: "Henry's Hideout Located at Rum Point / Cayman Kai"
H2 / Second Header: "Henry's Hideout Beachfront Living and Amenities"
H2 / Second Header: "Beachfront Investment or Vacation Home in Grand Cayman"
Three out of four headers all have the keyword "Henry's Hideout" so hopefully that will have enough keywords to carry it though. Notice that I used the H2 or the second header. That lets Google know that those headers are important to me. I could probably also use the H3 and if I had sub-sections, I would probably use the H3.Warning: Please do not keyword stuff your Headers with keywords. As tempting as that is and as plausible as it seems that you could get away with it, you don't want to turn off your Users. Always write for your Users but always know what the Search Engine Requirements are!
Insert Quality Internal and External links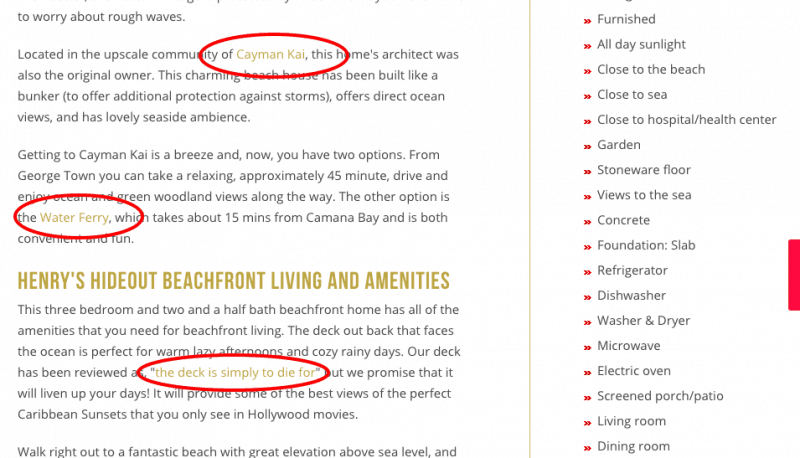 Example of Internal and External LinksI think this is important. I have never read a top ranking website without a link of some sort referencing a subject / topic. You need reference links and I think it works if you link to Internal and External resources. An important consideration is this: ALWAYS link to references that are already trusted. Link to top ranking websites and never, ever link out to a website that doesn't rank. The above links go to:
Internal link — location for Cayman Kai, goes to #1 ranking for "cayman kai real estate" which is CLPG
External link — this goes to CamanaBay, goes to # 1 ranking for "water taxi cayman"
External link — this goes to VRBO, goes to VRBO, a trusted Brand in Travel and Accommodations.
Note that all links are trusted and are top ranking. If Google doesn't trust a website, you can be sure that it cannot be found on the first page of Search Results.
Use Bullet points for easier Reading
Bullet points help users who don't want to read a whole of text by summarizing the content.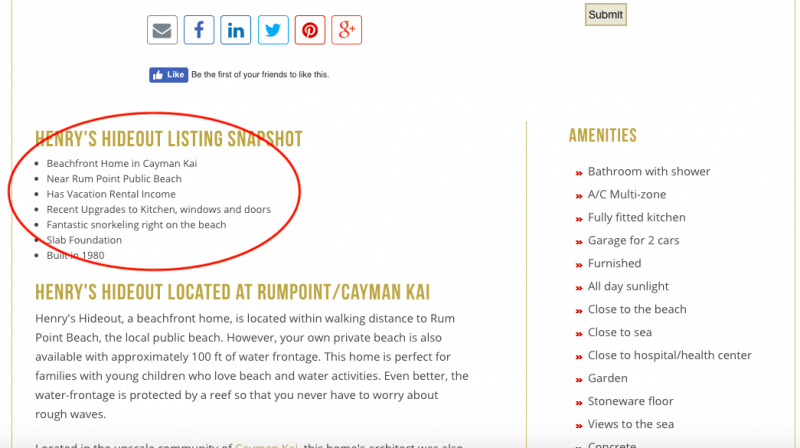 Bullet points makes content easy to readNot everyone is going to want to read your content. It doesn't matter how amazing your writing is, there are simply Users who don't like or don't have time to read all the beautiful prose you write. For those users its ideal to provide bullet points. Bullet points also provide a snapshot of your content and pretty much determines if Users are going to read the rest. It's always a good idea to have bullet points and I strongly suggest having them.
Write Comprehensively about your topic
The question I get asked a lot is "how much content should I write?" — and the ideal answer is, write comprehensively about your topic /your subject. When you write comprehensively and don't count the number of words, you will end up with a total over over 700 words. In Optimization your goal is to always have more content than HTML. Search Engines count the text-to-html ratio and they always prefer more content than HTML. To be safe, write over 500 words. To be a good writer, don't count your words — instead write about something comprehensively then you never have to worry about your word count.
Summary of how to write Optimized Content
User Keywords in your Headers
Insert quality internal and external links
User Bulletpoints for easier reading
Write comprehensively about your topic
Above are the four guidelines of how to write optimized content. In my previous blog about creating optimized pages for Squarespace, I also discussed how to acquire keywords. If you have any questions or need further clarification about how to write content for Optimized landing pages, please get in touch.
Inquire for More Information