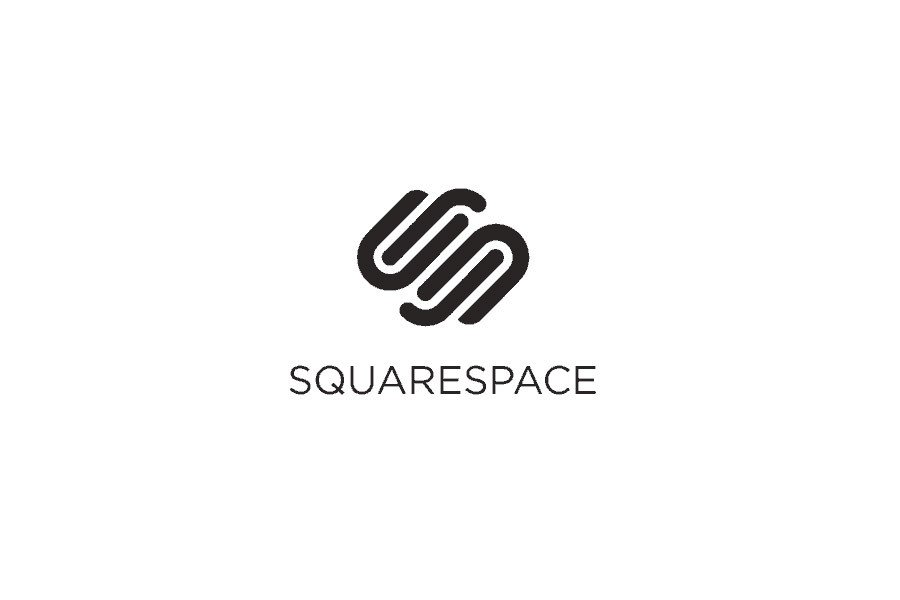 Blogs, DIY Websites, Search Engine Optimization
A Step-by-Step guide on how to Optimize SquareSpace Website by an SEO Expert
Fevi Yu
Date Published:

November 3, 2018
Before we start, here are a few things about me:  My name is Fevi and  I am a Caribbean SEO Expert  (We are #1 for most keyword searches in SEO and Web Design in the Caribbean) and I own and manage a Web Development Company.  I have been in the SEO / Web Dev space for over a decade.
You will find a lot of materials online about how to Optimize websites for Squarespace but in this article, I am going to do a step-by-step guide of what  it is that I do to optimize out website and our client's websites for Search Engines.  I am also going to customize it so that anyone with a SquareSpace website will be able to understand each step.
There are things that I do not include in this guide simply because every other SquareSpace SEO Optimization guide has already discussed it including, SquareSpace SEO.  I have not included technical SEO aspects.  In this Step-by-Step guide, I am only including what you, as  User, can do to optimize your website.
Step 1.  Know the Keyword/Keyphrase you are targeting
If you are going to optimize SquareSpace website, you need to know what keywords your Users are searching for when they are looking for your business / service.  For example, for this blog, I need to know what keyword to target even before I start writing.  Knowing my keyword helps me write content around it.

Notice that I could have chosen any other keyword but I chose this: "how to optimize squarespace website" for the reasons below:
5 words is a long-tail keyword, I specifically chose a long-tail keyword because long-tail keywords are very specific.  Users who search using long-tail keywords tend to be looking for exactly what they are searching for.
Long-tail keyword searches are "buyers" and not "window-shoppers"
I chose a long-tail keyword because this is a blog, not the homepage of my website.  If I my business relied on SquareSpace clients, I would probably target something bigger like, "squarespace seo" which garners 3,600 monthly searches and the SEO for the homepage is similar to the optimization of internal pages but its more detail-intensive.
It only has 20 monthly searches but I know for a fact that those 20 are looking for my exact business.
A question you might have is:
Question: Should I only write content if there is a keyword search for it?
Answer: Yes and No.  Personally, I write blogs whenever I feel like writing.  Sometimes I look for a keyword and sometimes I will just think of a topic that is relevant at the time.   It depends on you, the business owner,  do you have time? If yes, then by all means write about everything you can possibly think of.  If you don't have time and you want to be more scientific, then use your keywords.
DIY Keyword Research or Order it From Us
Be familiar with Keyword Tools.  Before you start a business website you need to know how much Online Marketing and SEO you need to do in order to be successful.  If you don't want to deal with the details of keyword research, we can do this for you.  All you have to do is send us your 1) Location 2) Target Market 3) Industry and we will do a comprehensive keyword research for your website.  This costs between $29 to 199.00 for us to do a complete keyword research for your Industry / Company.   The difference is how much work we will need to put in for you.  If its a small industry then your costs will be $29 and one keyword group (volume is less than 100 searches).  If it your industry is ginormous then it will cost $199.00 (volume of 100,000 searches and up) — if you would like to order this, please email info@wowebsites.com with the subject:  Keyword Research.   Asking for a quote is totally free and you will have to confirm and pay the costs before we send you your keywords.
Stupid reasons you are not #1 for your Keyword
I have had people tell me they don't need Optimization because they are already #1 of their keyword but the chances of them not being present on the first page of their primary keywords are very high because Google is a trickster and other reasons…
Google tricks you into believing you are #1 by remembering your browsing history and automatically placing your website in the most dominant position.  Google actually does this to all the websites you frequent so you think  you are #1 but the rest of the world knows the truth.  Actually, the rest of the world can't find you.    The best way to deal with this is by deleting your Chrome browser cache daily.   You should also do this on Firefox or Safari or whatever else browser you use.
The other reason you are not #1 for your keyword is because you don't know what your keywords are.  I know it sounds funny but I have had people tell me they are #1 and when I ask, "Number 1 of what keyword?"  — they draw a blank.   Don't be that dude!
Technical reasons you are not #1 for your keyword
Having an optimized website and being #1 of your keywords or first page is probably the single-most important decision you are going to be doing to increase your Online Revenue.  Having an optimized website is important both for your organic rankings and for your website quality score when you run an Adwords Campaign.  So, just do it!
Step 2.  Know where to insert the keywords
So Squarespace provides fields for you to insert your keywords.  SquareSpace also mentions that they are already "optimized" for Search Engines, which is great new for you, the User.   Essentially that means that if your industry is not highly competitive then you have a great chance of showing up for your keywords and keyword-phrases.  Ok let's start.  Make sure you insert your keywords on your title page, your first header (and try to support it using your second headers), and ensure that there is enough keywords peppered throughout your content.  Don't forget to insert keywords in your meta descriptions too!
In this blog, I am using my keywords in my title, headers and content — but I am writing my content for you, Dear Reader.  Can you notice the keywords?  I certainly hope not.  So let me reiterate where to put the keywords:
Insert your keyword in the Page Title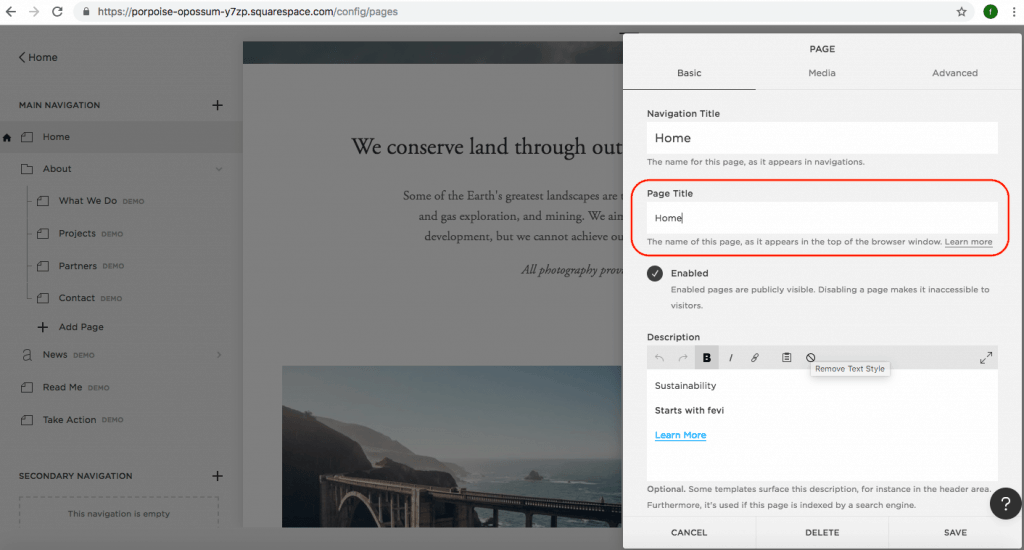 Insert keywords in your First Header
Insert keywords within your page content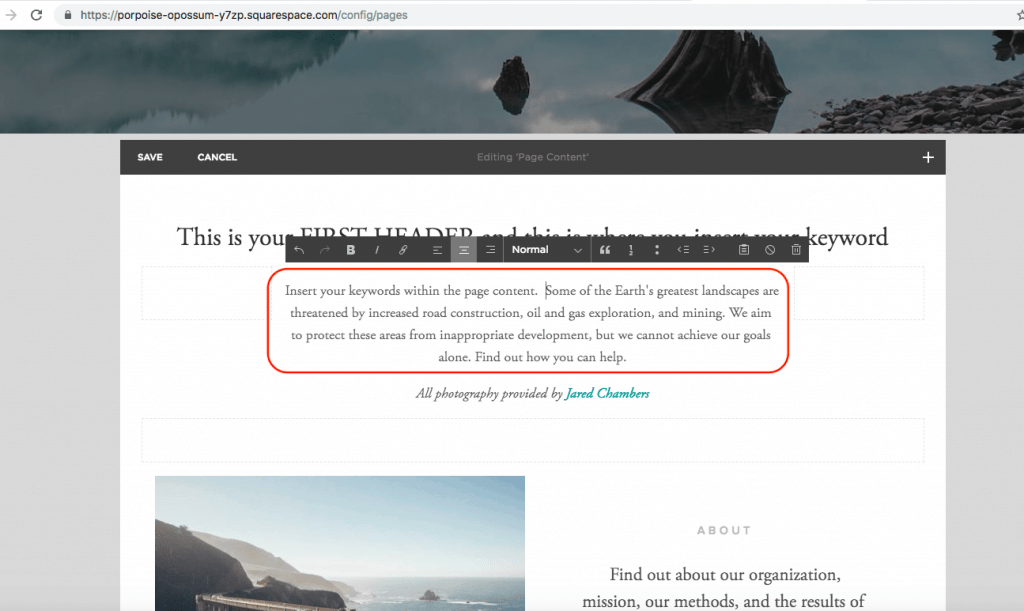 Please ensure that you do not fall under the penalty of keyword stuffing.  That is self-explanatory!  Do not insert keywords just to insert them, make sure each sentence makes sense to the User.  Never write for Search Engines!  Its easy to get in trouble with Google's penalties and much harder to recover.
Step 3.  Write content that satisfies User Queries
Now that we have gone over the keyword basics, I need to let you know that if you are going to be writing anything on your website, it needs to satisfy a Users query.  That means that you should never ask, "how many words should I write?" Instead ask this question:
"Have I satisfied a Users need for information that they are looking for in my business and / or service?"
I'm going to use the keyphrase, "how to optimize squarespace website" as an example.  On this page, I am going to be as comprehensive as possible in ensuring that when you leave this page, there is absolutely nothing else you need in order to Optimize your SquareSpace website.  Did you see what I just did there?  I inserted keywords within my content but I was also using the exact keyword as an example.  Pretty smooth.
When you are writing to Satisfy a User Query you will note that the content is going to be robust and its definitely going to be over 500 words.   One question that you may have is this, "How can content be so important that it helps increase your ranking?"
Content is so Important in Optimization
There are two main reasons why content and content alone is the single most important aspect of an Optimization Campaign:
Content is read by Users.  When Users read your content and its relevant to them, they stay on the page and read it thereby increasing a data set called, "time on site" — Search Engines and specifically Google counts this as a good thing.   The longer  a User is on your page, the more they know that your page is satisfying a User query.   Another data set that is important is "Click-Through Rate" or CTR.  That is when a User clicks on something on your page that goes to another page.  That means that a User is engaged and these data sets lets Google know that you are addressing the User's Query.  So when you write content, make sure you write it for your Users.
Content is read by Search Engines. Search Engines cannot read images, they cannot read video, they cannot read most things but they can definitely read content.  But they don't read it like Users.  Search Engine Crawlers tend to count the amount of words used most and thats how they categorize websites.  Thats why having content is so important on your website.
The biggest issue with SquareSpace websites is that lack of content.  Thats not SquareSpace's fault.  Users don't understand the importance of Content as it relates to Search Engine Optimization.  Below is an example of a featured SquareSpace client with absolutely no content on their website.
Example of a SquareSpace Website with no content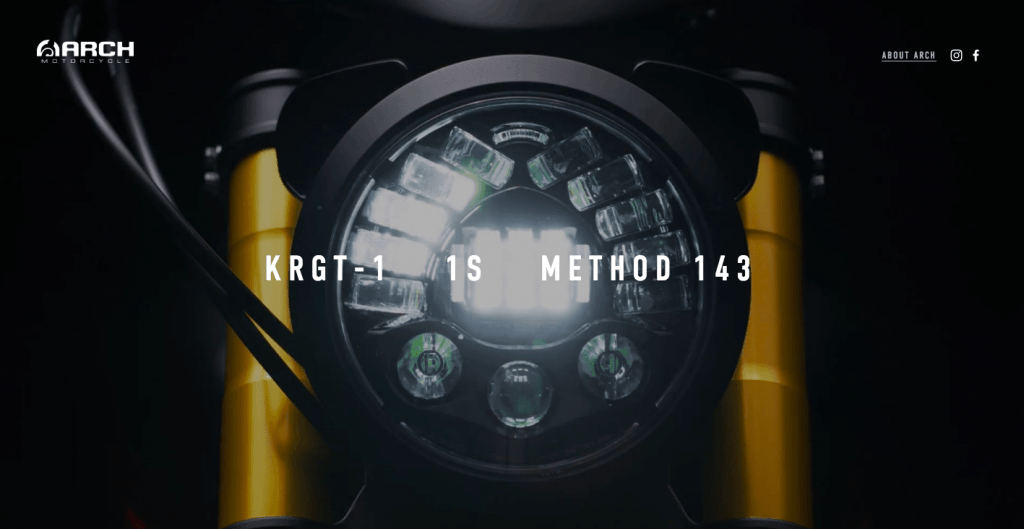 The website above was made by Keanu Reeves and you can find it here.  Unfortunately, when you run this website using a spider simulator, this is how Search Engine bots are seeing his website: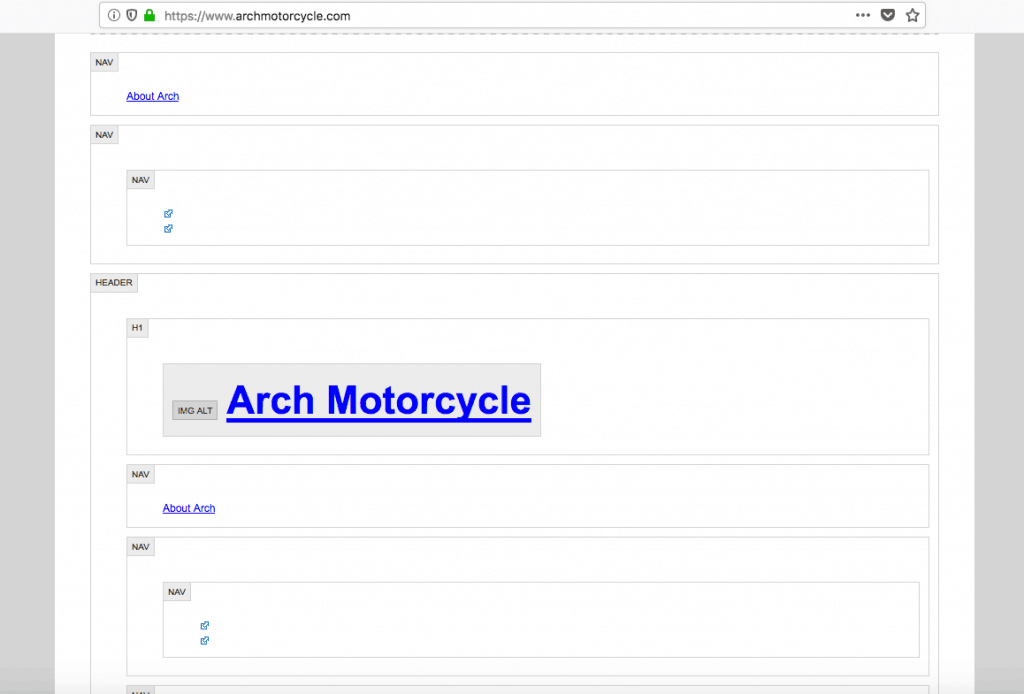 Atleast they used the H1 properly, thats a plus!  But thats all Search bots are seeing, the business name.  So when you search on Google for "arch motorcycles" this page is number 1 for that query (because they have a gazillion magazine links pointing to it) but they are not on the first page of "custom motorcycles" which gets 14,800 monthly searches on Google. That's a lot of possible clients they are missing out on.
But, lets face it.  Keanu Reeves doesn't need more money for his business, his list of clients probably come from all his exposure as an actor. He's got features in tons of magazines so he doesn't need Optimization as much as the average business.  And, let's face it, you are not an Actor and you probably need your website to make money for you.  Don't be like Keanu Reeves!  Write content for your Users and make sure that your content satisfies your Users query.
4. Website Navigation helps in Optimizing SquareSpace Websites
One of the things that I do as an SEO Expert is create Navigation / Site Architecture for our Client's website.  For competitive keywords and industries, I ensure that the Navigation helps in increasing ranking by siloing.   SquareSpace has  a lot of templates with amazing designs but when you look at their site architecture or navigation… its a little disappointing.
I took a look at some of the featured websites on SquareSpace and saw this website called Pattern of Purpose  — the website has a lot of content which is great but let's talk about site architecture.
A disclaimer:  Please note that I do not know anything about this business and I am only critiquing it from an SEO point of view.  In looking at their services, one of which is "building a signature brand" could have targeted a keyword such as "brand development" which gets 4,400 monthly searches or an easier target would be, "brand development services" which gets 90 searches per month.
(Side note: I'm reading the content of this website and whoever wrote it is a good writer!)
The current website navigation is:
About
Work with Me

Services
Copy Correction
Client Research
Building a Signature Brand

Blog
Contact
If I were to create this navigation, based on keyword searches, below would have been my recommendation:
Disclaimer:  I normally meet with clients for atleast an an hour to discuss keyword searches. We meet and decide which keywords or phrases best describe their businesses and services.  I haven't done that here so this Site Navigation is a personal recommendation for the purposes of optimizing a SquareSpace website.
Brand Development

Your Personal Brand
Brand Development Marketing
New Brand Development
Logo & Signature Branding

Other Services

Copy Writing
Copy Editing
Client Research
Client side Market Research

Clients

Testimonials
Portfolio
Case Study
FAQs

About Me

Meet our Team
Company
Mission & Vision

Blog
Contact
This site architecture that I recommend will attract more keyword searches.   The reason is simple; the main menu has all the sub menu's linking to it.  The more relevant links pointing to a web page, the higher the ranking.
For example, "Branding Development" has links pointing to if from these pages:
Your Personal Brand
Brand Development Marketing
New Brand Development
Logo & Signature Branding
All these submenus are relevant to the page and links pointing to it help support the page in targeting the major keyword, which is "brand development" and gets 4,400 monthly searches.
If you don't feel that you can create your own website architecture, I can definitely help. Please contact me for pricing. Email info@wowebsites.com with the subject: Website Navigation
To summarize, here are the 4 steps in Optimizing your SquareSpace Website:
Know your Keywords/Keyphrases
Know where to insert your Keywords
Write content that satisfies a User's Query
Ensure your Website Architecture uses keywords
The  last and additional step that missing from this list is Off-Page Optimization, meaning its something that you have to do that isn't part of your website.  That is getting links to point to your website.  Its important that you get relevant and trusted links to point to your website as that is the entire ranking algorithm of Google.   I won't include that section here and as a business owner, you should already have links pointing to you from Organizations and Associations that you are a member of.
This step-by-step guide isn't just for SquareSpace websites.  It is the same for all DIY websites and the same for all websites in general.  If you follow these 5 steps in total, its very hard to go wrong.  The only reason you will not show up for keywords is when your industry is way too competitive for content to make an meaningful impact.   But if the "time on site" of a User is high on your website, you could still nab a first page position.
If you have any questions or need further clarification on any of the steps above, please get in touch.
Inquire for More Information