Blogs, Google, Questions & Answers
How do I get my website to rank on Google, post Hummingbird?
With the new algorithm in play, more and more SEO's are exiting the scene [Crime Scene]. Hummingbird has proved to be quite a challenge as free tools are taken away and paid tools continue to increase revenues, including Google's Paid Inclusion. I think most of us in the industry are feeling betrayed by all this but I won't waste my time dwelling on things I cannot change. Instead, today, I want to focus on things that we can do to make our websites more effective, post Hummingbird.
Fevi Yu
Date Published:

November 20, 2013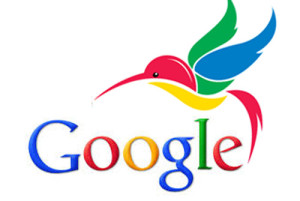 Before Hummingbird, list below was the focus in Optimization:
1) Trusted Links – links from trusted websites that related to your industry and location
2) Unique and Quality Content – ensure that your content is unique and adds value to your website
3) Social Media Activity – ensure your company has ample social media activity
4) New Content – ensure relevant updates to your website
5) Authorship and Schema – ensure your website's authorship profile and schema
If you had built your websites to include the five things listed above plus of course the rest of the criteria for an Optimized website – then your site should not have any issues ranking for its keywords. But after the Hummingbird Algorithm was launched, Google has become even more stricter. I have personally seen some of the website's we built plummet in rankings because they had no social media activity in play, no new blog and no new updates. Its pretty sad because some of these companies are some of the best that the Cayman Islands has to offer but they are small businesses who have no one to manage their social media for them and so they let it suffer.
There are many nuances of Optimization that would simply bog down a reader (and a writer) so I am not going to include them here. Just know that there are over 200 Search signals to take advantage of and gain a competitive edge. If you have a site and are following the above 5 line items but are still not ranking, suggest you request for a consultation. First one is on the house.
After the Hummingbird was launched, here a few things to consider:
1) The 5 listed above are even more important now than ever, without them #forgetaboutit
2) Google+ – your authorship profile above is tied to your Google+ account and updating it is directly informing Google that your business is in business
3) Answer Questions – Google is now better equipped to answer questions so if you can answer questions within your content, chances of Google ranking you for search queries will be higher.
One of the biggest things that struck me most about the Hummingbird was what Amit Singhal, Google Fellow and head of the Ranking Team, said, that there hasn't been a dramatic rewrite of the Algorithm since 2001 and that Panda and Penguin both were just updates of the "old algorithm".
Singhal also mentioned that Hummingbird was a rewrite of the entire algorithm and what it does better now is look at a query not just using keywords but the entire phrase (every single word). No longer is Google a selective keyword search engine but because of its expansive knowledge graph it is now in a position to better answer questions.
Answering Questions
The more I thought about this, the more I realized how Google is moving away (mile and miles) away from keyword search. Substantial proof of this is when they took away their free keyword tool. And moving towards conversational search. I love this blog by Danny Sullivan that explains how conversational search works. Obviously conversational search is tied into mobile and voice search but you can be sure that this is all going on in the same database.
So how does this help you understand what to do for your website?
Ok since you still have to create new content every so often, its probably a good idea if you thought about what type of questions Users will be asking about your service/s. Here are some examples below…
Cayman Hotel Industry
If you belong in this industry, think about what questions your users might be asking. For example, one question I know I would ask in choosing a hotel is this…
"What hotel in Grand Cayman is on the nicest patch of beach?"
For most users who have never been to the Cayman Islands, I'm certain this would be on their top ten list of questions to ask so as a Service provider in this industry… answer it. Write about what type of beach front you have and why Users should book with you instead of go somewhere else.
Cayman Real Estate Industry
If you belong in the Real Estate Industry, again, what questions do you think prospective home buyers are looking for? One question that automatically pops up in my head is this…
"Which Caribbean Island should I buy a Vacation home in?"
Alot of second home buyers will do their research before travelling to the islands, the best way to get connected is by thinking of all their questions and answering them through a blog post.
Cayman Islands Tourism
If you belong in the Tourism industry, there are probably a gazillion questions that your users are looking for… start with the basic. The first question in my mind would be…
"When is the best time to go to Grand Cayman"
The below screen shot proves that this is already a search term.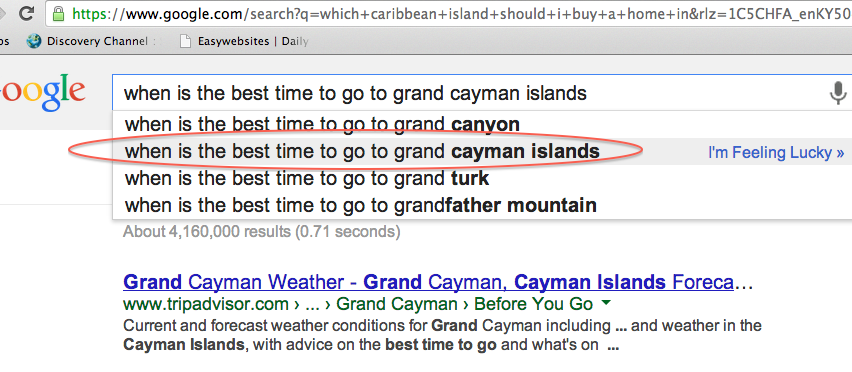 If you are in the tourism industry, write a blog to answer the question and then right after that inform the User of what discounts you offer within those months so you can get their attention.
If you have access to your Google Analytics, you will see your search queries and have access to your keyword planner. This is invaluable because you can start writing answers to your direct users right away.
Hopefully this blog has provided you insights into Google Hummingbird. I have linked to quite a few great articles that are more comprehensive so please read them when you have the time. The only thing to really remember is this… think about your users, think about what questions they are asking and answer them. In that way, you are already ahead of your online competition.
Inquire for More Information