When we wrote the article below, we were still located in the Cayman Islands.  Up to now, after 4 years later, I believe we are still the most visible web design and development company on Google.  Go ahead and search for "Cayman Web Design" Of course we have redirected all our URLs to our new website, White Oak Websites but the information below still stands true: We will always do whats right and never engage in any unethical SEO / Optimization techniques.
—– September 6, 2016 —-
When we started our business in the Caribbean, over 7 years ago, there were no other SEO companies on the island.  A year after we opened shop, another business also started providing SEO services.  Here's the kicker, they were doing alot of black hat SEO practices!  One of the things they were doing was creating footer links from their client websites to their website.  Im sure every Web company does that in Cayman because they don't know any better. But the other companies had no malice involved with their footer links, this new company did.  We at EasyWebsites made sure that our footer links did not steal any pagerank from our clients websites by putting in the correct robots tags.  This other company was blatantly putting over 3 links going to different websites they owned and even had one internal page from the client's website!  It was a  big party for them because none of their clients knew that such a small thing could affect their website in a big way.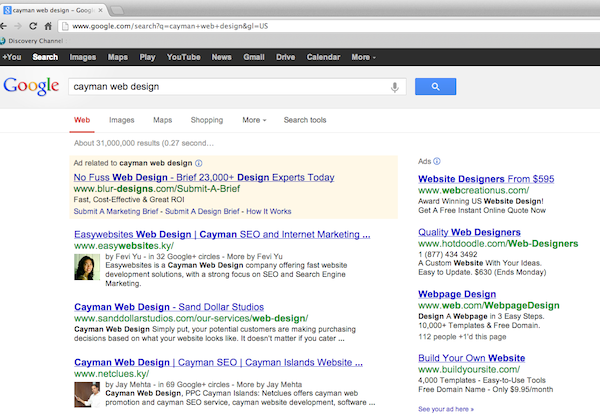 Anyway, their footer backlinks allowed their website to rank higher than ours.  We were always second for the keyword, 'cayman web design' because we had done the right thing and disallowed any of the link juice from my clients website to pass through.  This is best practice in SEO.  That's why sometimes doing the right thing in SEO is so hard because it takes awhile for it to take effect and the black hat methods take a few days!
Fast forward to today, after the Penguin Update and after the Panda Algorithm Update, I am now no. 1 for my keyword.  Thank you Google for seeing through the black hat SEO (mal)practices.  This is proof that we are always doing the right thing even at the cost of our Search Engine rank.