To our Caribbean brothers and sisters, we want want to say how truly sorry we are that this has happened to our beloved region.  As a web development company, we know that right now your website is probably the last thing on your mind and we understand  but if you are a tourism-based business on one of the islands that Hurricane Irma directly affected, it might be a good idea to give guidance to Clients / Customers.  This is especially important for businesses who are not otherwise active on Social Media.  Here are few things you can do on your website to let clients know about your business during this difficult time.
For Caribbean Islands directly affected by Hurricane Irma, namely:
Antigua and Barbuda
Saint Martin
Saint Barthelemy
Anguilla
Saint Kitt and Nevis
British Virgin Islands
US Virgin Islands
Puerto Rico
Dominican Republic
Haiti
Turks and Caicos
Below are things you can do to help your Clients and Customers know about your situation:
Enable a pop-up notification for Users
If your business was directly affected by Hurricane Irma and you have been receiving emails from clients who have already booked with you and are wondering what is going to happen with their booking. Please update your website with how they can best handle that booking.  We suggest using a pop-up because its very visible to everyone going to your website.  There is no chance they would miss it.
Sample of an update:  The Westin, St. Maarten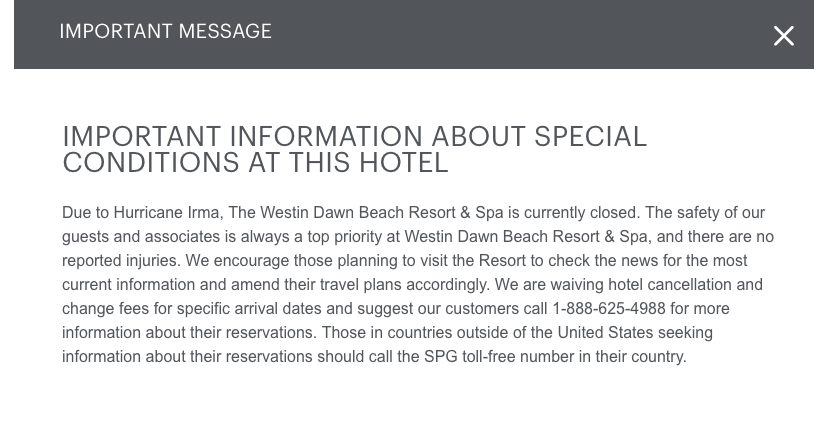 This is a good example of a business informing its clientele about what to expect.  Having a notice will also minimize the amount of emails you will receive and need to reply to.
Another example of Website pop-up notifications is on Le Barthelemy in St. Barths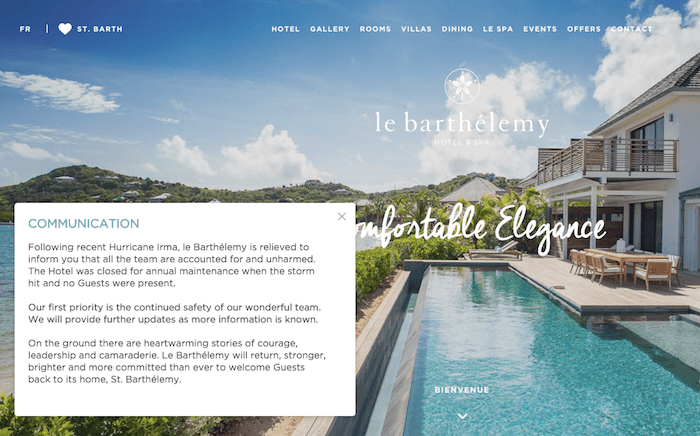 On the notification, it reads:
"Following recent Hurricane Irma, le Barthelemy is relieved to inform you that all the team are accounted for and unharmed.  The Hotel was closed for annual maintenance when the storm hit and no guests were present.  Our first priority is the continued safety of our wonderful team. We will provide further updates as more information is known.  On the ground there are heartwarming stories of courage, leadership and camaraderie. Le Barthelemy will return, stronger, brighter and more commited than ever to welcome guests back to its home, St. Barthelemy."
And after reading a notification like that, it just makes me want to support their business even more because it lets me know that they care about their team and people.
What we can do for you:  If your business needs to update your website with a pop up and your website is built on a CMS Open Source and PHP Server, we will do it for you for free, absolutely no cost.  Just send us what you want said on the pop up and we will take care of it.  Please email us directly urgent@wowebsites.com.  We will need the following information from you:
Domain ie. www.yourwebsite.com
Your Hosting information ie Godaddy
or your FTP information
Your Admin access
Content that you want to publish
Please note that we can only do this if your business is located in any of the Islands directly affected by Hurricane Irma and if  your website is built on WordPress / Joomla / Drupal or any other Open source CMS.  We apologize, we are unable to help if your website was built on .net / Microsoft platform.
Create blogs on your Website that informs Users of your situation
Most of your clients already know what the overall situation is from watching the news or reading about it on News websites but its really different and personal when you hear about it from the Business owner's blog.  There is no greater example of that than Sir Richard Branson's Blog.  Watching what he is doing, reading what happened has made me love his brand even more and when I fly transatlantic, I know I will prefer using Virgin Air. Branson isn't making this about himself or his brand and in no way is he trying to market his Company.  At least, that doesn't come across to me.  It really feels like he genuinely cares about everyone in the British Virgin Islands.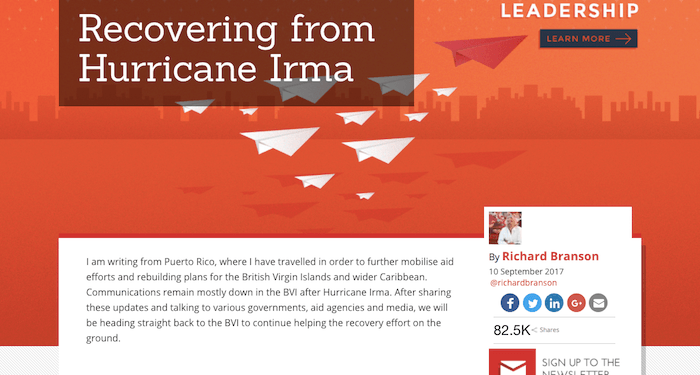 What we can do for you:  If your website doesn't currently have a blog, we can integrate a blog for you at no cost.  Please bear in mind that we will only serve businesses affected by Hurricane Irma and those islands listed above, please note that we can only do this for websites that use Open Source CMS like WordPress / Joomla / Drupal / Bootstrap.  Please get in touch with  us so we can get that done for you.  Again, we will need the same information as mentioned in part 1 in order to access your website. Please note that this is a first come, first serve basis.  We may not be able to help everyone but we will try.
Update pages on your website that directly affect your Reservations
Its important to update the pages of your website that directly affect your clients such as the reservation page or booking page.  If a User is trying to make plans in the next few months, its good business practice to let them know when you think you will be accepting bookings / reservations again.  If you think your business being closed for the next 6 months because you are rebuilding, let Users know when you think you will be up and running again.   I know folks want to already support their favorite businesses, all you need to do is to let them know when.  Here is an example of updating pages that affect bookings: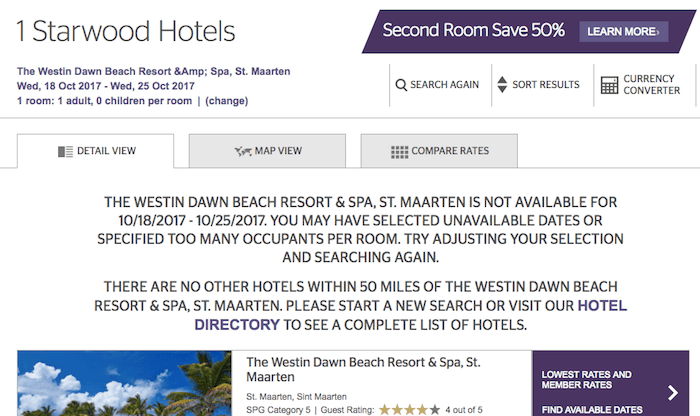 The above is an example of updating the reservation or booking page and it makes it easier for Users to know when they can start supporting your business again. Please note that we would be happy to update your website reservation / booking pages for you so that it automatically informs Users that they are unable to book.
Another important thing to remember is to let your clients know where to find you and how contact you if they wish to help. If you or any of your staff are active on Social Media, provide your Clients the link either on the pop-up notification or as a blog entry. The last thing any business owner wants to do in this trying time is to update their website or even think about it, we understand and that's where we want to help.  We want to help our Caribbean brothers and sisters so please contact us today and let us know how best we can support your business in the Caribbean.
Quick Contact for Website Assistance:  urgent@wowebsites.com