Quite a few of our clients have asked us this question but before we proceed to answer the question, a disclaimer: please note that we use WordPress for a lot of our client's websites. We also use Joomla, Drupal and Magento. A common thread between all these platforms or Content Management Systems (CMS) is that they are all Open Source. Personally, we love Open Source because it fosters community, creativity and shared-values. We don't develop websites using SquareSpace because its proprietary software. Proprietary software is the opposite of Open Source and it doesn't allow other developers to change its source code. So essentially its this: If SquareSpace was Open Source, it would probably be one of our development platforms. I think SquareSpace is great but like every other software, it has its pros and cons.
Information on the comparison table below:
The comparison is between a SquareSpace website vs. a WordPress website (not the free wordpress.org blog site) made by a WordPress Developer with On-Page SEO. We think this is a fair comparison because SquareSpace promotes itself as out-of-box SEO integrated website.
On-Page SEO Comparison b/w SquareSpace & WordPress
H1 to H6 Tags: In Squarespace when I tried to put headings, almost all headings was an H1. How is a User going to distinguish between inserting an H1 or an H2? The software does not identify H1 for SEO purposes and instead uses it for font sizes. Failing to insert the H tags correctly would mean losing out on Semantic Structuring. Semantic Structure helps Search Engines in identify your keywords and synonyms thereof. In WordPress, it clearly states the choices as "paragraph" or "Heading 1" or "Heading 2"– which makes it clearer for a User to insert the headings.  If there is a way to change the H1 to different H tags, it wasn't clearly visible to me.
Page Speed: Here is the page speed for SquareSpace you can see the results are 60/100 and 82/100. Here is the page speed for White Oak Websites you can see the results are 86/100 and 88/100 for mobile and desktop. Although please note, SquareSpace has provided this press release for the issue with Page Speed and provides recommendations on large image formatting.
Hosting: SquareSpace provides free hosting for its websites, which is definitely a bonus but the problem with that is you don't know who else is hosted with your website. In SEO, one of the guiding principles is ensuring the website is being hosted on a reputable server and ensuring other websites are as high ranking and have good online reputations as well.
W3C Validator: Here is SquareSpace HTML Validation check and here is White Oak Websites. As you can see we have no errors or warnings whereas SquareSpace has quite a few. Not all SEOs agree that the HTML Validation tool helps in SEO but if your code is clean then you are helping robots index your site more efficiently. I can't imagine that being a bad thing for SEO.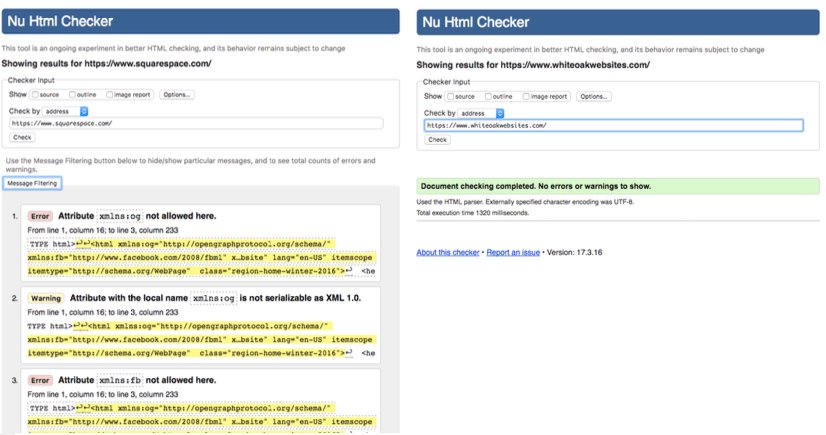 Keyword Research: When we develop a Client's website, we do the Keyword Research and make sure that its properly integrated into the clients website via title, headings, content and meta data. The assumption here is that if a User went onto SquareSpace, they won't necessarily know how to do Keyword Research and let alone where to integrate it on the websites. You can see the samples of SquareSpace Websites, the common theme is that they simply don't have keywords…
Search Engines rely on two things when indexing your website: 1) Content and 2) Links and without content it wont be able to readily index your website in the proper category. This is of course different if you don't care about Search Engine Rankings because you are a brand. If you are a brand you can feel free to ignore this whole blog because it won't affect you since well, Brands can get away with a lot of things.
Website building. Another aspect of SquareSpace that is not immediately obvious is that most Small Business Owners don't have time to do create content much less create and build their own website.  Nor do most Small Business Owners understand that they need to put H tags or Meta Data or even content on their web pages.  I feel this is the biggest issue with SquareSpace.  When we build your website we guide you on all things that you need to do and for things such as keyword research, we will do it for you and advise on what keyword you should target.
Conclusion
I love that SquareSpace has really ramped up the SEO on their Platform. I think its great and if there was no requirement to build custom functionalities on my clients website then I could very easily recommend it. Of all the Content Management Systems that are out on the market, it has the most User-Friendly built-in SEO solutions. If anyone needed a website with limited functionality and was on a tight budget, SquareSpace is the way to go. What SquareSpace is doing is essentially getting rid of the $299 Web developers, which is good for all Professionals in the Web Design Industry.
With a slight edge, because its OpenSource and because it allows so much flexibility, I'm going to recommend Wordpress as my choice for SEO. I think its important to note that because SEO is evolving, you need to be able to change and customize as quickly as possible and with so many Developers developing components, modules and plugins for WordPress, its a great community to belong to. Bear in mind, it has its pros and cons too but I will get into that some other time.
If you are asking about comparisons between Wix, Weebly, Webs, etc. Please note that we feel that SquareSpace is the most SEO Friendly DIY website builder out there.  If your site doesn't need functional or customized applications then we definitely recommend it especially when you have a limited budget to begin with.  For any questions / clarifications, please don't hesitate to get in touch.