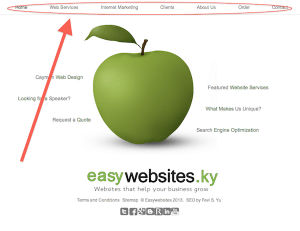 If its one thing we wish we could teach our clients, it is website navigation best practices.  I had a meeting with a new client earlier this week and he was telling me that his designer had provided his website's menu item to him.  A website's menu is the foundation of every website so it must be thoroughly discussed, dissected and researched.  His designer wanted to call the "Contact" page, "Information" and I blatantly said, well no one is going to click on "Information" if they wanted to "Contact" you and he reluctantly agreed.
Today I still find the most ridiculous Menu items in Websites for the Cayman Islands Tourism Industry and most of the time I am just SMH (Shaking My Head).  For readers who are not familiar with Menus, they are also called a website's navigation and are often found on the top of a website or below the banner.  There are also still websites who have Vertical Menu items.
Call a Spade a Spade
The worse thing you can do is create a menu item that Users are not familiar, ie. the example above.  Another example is being all "creative" with naming terms and using synonyms that are less common.  Remember, it has been proven that a user only has 7 seconds to browse your landing page and if nothing catches their attention, they are going to click off and be gone, for good.  A word will catch their attention if they are familiar with it.
Common Words not to Interchange
Here are a list of words that I believe you should use on your menu and that you should never try to get creative with:
Contact – this is pretty obvious but if it isn't yet, if a user is interested in your product or service you want to give them a quick way of recognizing this page
About – when a client / customer wants to know more about the product or company this is the menu item that will inform thema bout it.  Changing it to "Who fa ya" is not going to make it easy for users to find your About section.
Photos – did you know that "photos" are searched for 500% more than "gallery" – so you should definitely use "photos" over gallery when designing your menus.  When a user searches for a term, the chances of them clicking on that same term is much higher than any other term found on the landing page.