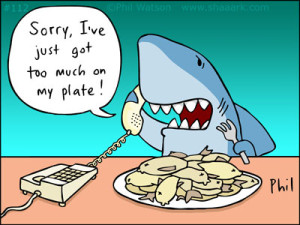 I have gotten some feedback from clients telling me that they are having a hard time getting a hold of me via phone so I just wanted to explain, that its not easy staying on top of my game. Just this week alone (May 27 to 31, 2013) Google, Linkedin and Facebook made changes to their functions/features and it is my job to understand each and every single implication. If I don't then I would be letting you down and wont be giving you the correct information you need to move forward with your online goals. Please note that this week is a "slow week" compared to other weeks by industry standards.
So inbetween new client meetings, project management and running 2 offices (Manila and Grand Cayman), here is a list of things that I need to understand before the day is up…
Things that happened in SEO this week
Just to reiterate, the best way to contact me is via email. I simple don't have the time to be answering calls left, right and center.
Please contact me for urgent matters via email.Please also understand a couple of things: 1) if your email is valid and affects your immediate website, I will move so fast you won't even know I have fixed the issues. But, 2) if your email is lengthy and does not affect your immediate online presence, it will be difficult for me to reply. Please make sure your emails are direct and to the point. Brevity is key. Nothing irks me more than wasting anyone's time.
PS. Thanks to Phil for the image above, i took it off another blog but that blog didn't have the correct credits so Phil if you ever read this, hit me up so I can give credit accordingly.