Barney's Social Media Rule #1
In keeping with the Social Media Theme and Barney's #1 Rule, here is another one, Don't waste your Social Opportunities.  I just got back from a meeting with one of the largest companies in the Cayman Islands.  They have over 300 people working for them and have several companies under their belt.  For those of you in the know, you probably already know which company I am referring to, for those of you in the, "I don't know" – lets keep it that way.  Anyway, our discussion was that even if they had so many people and so many companies under their belt, they did not have anyone who was managing their social media accounts.  In this day and age, that is a tragedy waiting to happen if it hasn't already.
Rule #1: Don't waste your Social Opportunities
And it simply means that.  Everyday your brand has an opportunity to shine.  Every  single day your brand is online, your biggest fan is waiting to happen.  Not having anyone look after your social media accounts is losing that daily opportunity.  Please note that I am  not saying that you should  hire a dedicated person to look after your social media accounts, although for the larger companies, it is definitely a plus. I'm just saying that if you are a company, you should have someone watching out for online opportunities for your brand.  Below is a concrete example of a wasted opportunity: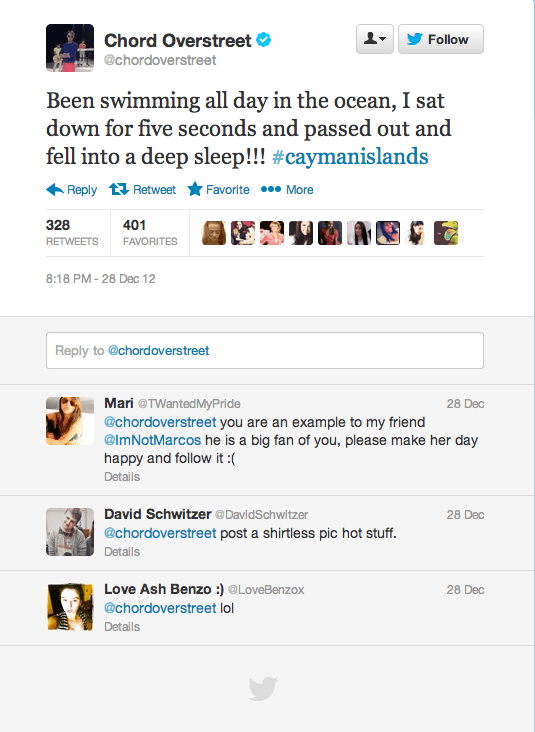 That is a tweet from Chord Overstreet, a Glee cast member.  He has over 1 million followers.  Yes, 1 Million.  Just look at how many retweets his tweet received. I am amazed that none of the major brands picked this up.  Neither did the any of the tourism sites or affiliates.  A simple welcome from anyone in authority would have been wonderful.  If I owned a restaurant instead of a web company, I would have tweeted him back and said, "Hey @chordoverstreet Welcome to the #CaymanIslands – come over for dinner on us, bring your friends!"
Anyway, there is a reason why there is only one rule and if you never have to remember any other rule, remember this: do not waste your social opportunities!